Adult coaching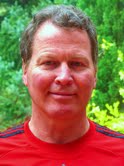 We run coaching programmes at affordable prices for adults and juniors. All the latest info on our junior programme can be found on our Junior page.
Bruce Beadle is our club coach at Corstorphine LTC and runs both adult and junior coaching programmes for the club. He can also provide individual lessons and can be contacted on 0771 556 1929 or email Bruce to arrange a tennis lesson. Bruce also does racket stringing.
For adults, Bruce runs a weekly "Rusty Rackets" coaching programme on Thursday evenings. Please contact Bruce for the latest prices and times, or email here.
Bruce also does racket stringing. Click here to find out about this service.