Club
April 2022 Newsletter
Thu, 31 Mar 2022 00:00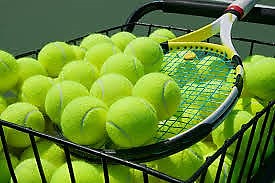 It's about a month since I took over as Chair of the tennis club and I am gradually getting to grips with the new role, thanks in large part to a very supportive and experienced committee and the invaluable assistance of the outgoing Chair Bob Roberts. I am sure you will agree that Bob did an outstanding job during his five-year tenure and it will be extremely difficult to follow in his footsteps. However, I am very pleased that Elspeth Harding is back on the committee - as VIce Chair - to help share the load, and we also welcome Lisa Gibbs for the first time.
The biggest challenge we have faced at the outset of my tenure has been the refurbishment of the courts - and this is still underway as I write. Thankfully, the weather has been kind so far, and the contractors managed to resurface the courts with asphalt on schedule, allowing play to resume for two weeks on the temporary surface beginning on Monday 21 March. Thanks to all those who have been coming down to play and remembered to change their footwear so that the courts remain clean during this interim phase.. As you probably know, the second (and final) phase of the refurbishment will begin on Monday 4 April when the surface is painted and permanent lines are applied. This means that the courts will be out of action again until Monday 18 April to allow the 'curing' process to take effect.
I realise that this is the time of year when many tennis enthusiasts come out of 'hibernation' and are keen to start playing again. However, the refurbishment was essential and the work can only be carried out when the weather begins to improve - so thanks for bearing with us. I know that team captains have been busy scheduling league fixtures to accommodate these delays and I am very grateful to them for their extra effort.
After we are up and running again on 18 April (touch wood) we will be staging a celebration event to showcase the newly refurbished courts. Our Secretary Jan Lloyd-Jones will be letting you know more about this event in the near future but please note the planned date - Saturday 14 May - and keep it free in your diaries if possible. In the meantime, while the courts are out of action during the first half of April, I have agreed to host another Zoom quiz. This will be on the evening of Saturday 9 April (7pm) and we will be asking each participant to make a small contribution to the Disasters Emergency Committee Ukraine appeal. Jan has already sent out details and she has kindly volunteered to coordinate the technical stuff which enables us all to link up. Please let Jan know if you want to take part - her email address is [email protected]
You will also see that our Membership Secretary Diana Tasker contacted you recently about renewing membership. We have tried to limit the increase in fees against a backdrop of marked increases in the cost of living, and hope you agree that they still represent very good value for money. If you have not received your membership reminder, or have been having difficulties with the payment process, please contact Diana so that she can help you. Also, we would be delighted if you could encourage friends and neighbours to join the club. As usual, they are welcome to come and enjoy a couple of freebie 'taster' sessions during the Monday/Wednesday/Friday socials, and our coaching team is always on hand to provide a free introductory lesson for newly arrived members.
I am pleased to tell you that the recent tennis weekend at the Manor House venue in Devon (near Okehampton) was a great success. Fourteen members of the club enjoyed lovely sunny weather and, apart from playing tennis (including a 'round robin' tournament and expert coaching), they had the opportunity to play golf, walk in the National Park and have a go at jewellery making - and then relax in the spa pool or at the bar. All meals were included so it was a complete break. The next one is due next Spring - watch out for details nearer the time because it sounds like a real treat.
Before I conclude, I must mention Bob Roberts again. He attended the tennis weekend in Devon and was presented with a hand-crafted chair in recognition of his sterling efforts on behalf of the club. I am sure that he appreciated the low-key nature of the event as he shuns the limelight. By the way, he is still a member so many of you will see him around the courts as usual.
I think I've said enough for now. I was going to send you a copy of my April/May contribution to the Frampton village newsletter but the editor has changed and we didn't get our usual reminder. As a result, we do not feature in the latest edition. I have made a note to be more proactive regarding the next deadline!.
All the best
Bob McNally