Club
Many thanks Bob!
Mon, 28 Mar 2022 00:00
Many of you will know that Bob Roberts recently stood down as Chair of the club after five years of sterling service in the role. Those who know Bob will agree that he is very self-effacing but he was 'ambushed' during a recent club tennis weekend, and was presented with a hand-crafted chair in recognition of his magnificent efforts over the years.
Commenting on his gift, Bob said: "This was a considerable surprise, totally unexpected but much appreciated. It has been a pleasure to be the Chair of such an excellent Committee. "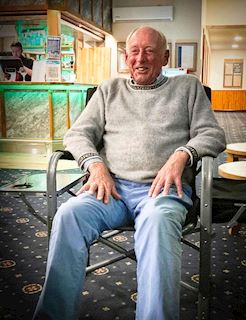 Bob is still very much part of the club and intends to keep on playing for many years to come. He has been very generous with his time, driving initiatives forward and also sharing his experience with others on the Commitee, and his successor (OMG another Bob. - this time of the McNally variant) realises that he is an extremely hard act to follow.
Incidentally, the 14 members who attended the weekend at the Manor House venue in Devon (near Okehampton) enjoyed lovely sunny weather which meant that they managed a lot of tennis, including a round robin tournament and expert coaching. The Manor House also offered the chance to play golf, walk on Dartmoor and try jewellery making - and the spa pool was very popular too. The next one is due next Spring - watch out for details nearer the time.