Our History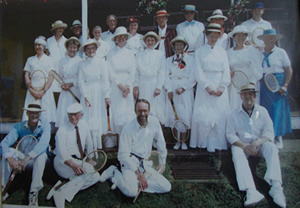 The Grove (Chelmsford) Lawn Tennis Club was founded on April 12th 1893. The founding members were deacons and officials of the Baddow Road Congregational Church, which was demolished in the 1960s when Parkway was constructed.
They commenced by hiring or were permitted to use a lawn belonging to a young ladies' school that stood on the corner of Grove Road and Moulsham Street. Due to building development the club moved to new premises in Vicarage Road in 1894, where they developed three grass courts and remained for 75 years.
The original committee and links with the church gradually diminished over ten years when in the early twentieth century the club membership largely consisted of local businessmen and their families.
The Vicarage Road site was rented from the Mildmay family until 1913 when it was purchased with a mortgage, interest free loans from members and donations.
This ground was also sold for building development in 1969 allowing the purchase of the facilities on the present site.
The Grove was one of the eight original clubs forming the Essex Lawn Tennis Association in 1895. With Connaught of Chingford they are the two remaining founding clubs with an unbroken existence of over 100 years.
A full account of the Grove's history appears in a booklet "100 Years of Tennis 1893 – 1993" where full details and illustrations form part of this booklet.