We welcome players of all ages and abilities. You are welcome to come along and try our social tennis sessions (up to three times) before deciding whether you wish to join. For more information and application forms for Adult and Junior memberships please click on the above tabs.
If you have any questions regarding membership please contact our Membership Secretaries:
Adult Membership - Email Jane Bodley at [email protected]
Junior Membership - Email Lesley Barkley at [email protected] or choose one of the options shown below.
Our membership year runs from 1 April – 31 March. Annual Membership is due on 1st April each year. Discount will apply to new members joining during the year. Full membership entitles you to play tennis every day of the week, daytime & evening, free of charge. However, there are certain courts that are booked by the Club for coaching, club nights, tournaments and matches.
We are an LTA Registered Venue, and one of the benefits to our members is that you can become an Advantage member for free which gives you access to the British Tennis Wimbledon Ballot, compete with a British Tennis Rating and stay on the ball with the latest news in British Tennis. If you have any questions please contact the LTA team on 0208 487 7000.
The following membership packages are for new members only. Renewal information will be sent to existing members by email.
Classes of Adult Membership 2022/23
a. Full Member £275.00 Partner of Full Member £245.00
b. Out of County Member £170.00
c. Full time student / Home £100.00. Young Adult (under 25) Full time student Away £55.00
d. Restricted member (max of 1 year whilst improving) £60.00
e. One month member (any one month from 1 April to 1 Sept £35.00 maximum 1 month - students 2 months)
f. One day member (each member to be limited to a maximum £5.00 of four days in any one season)
g. Five-day (off peak) member £155.00
For categories a), b) or g) add Joining Fee £25.00
£ Annual From 1 April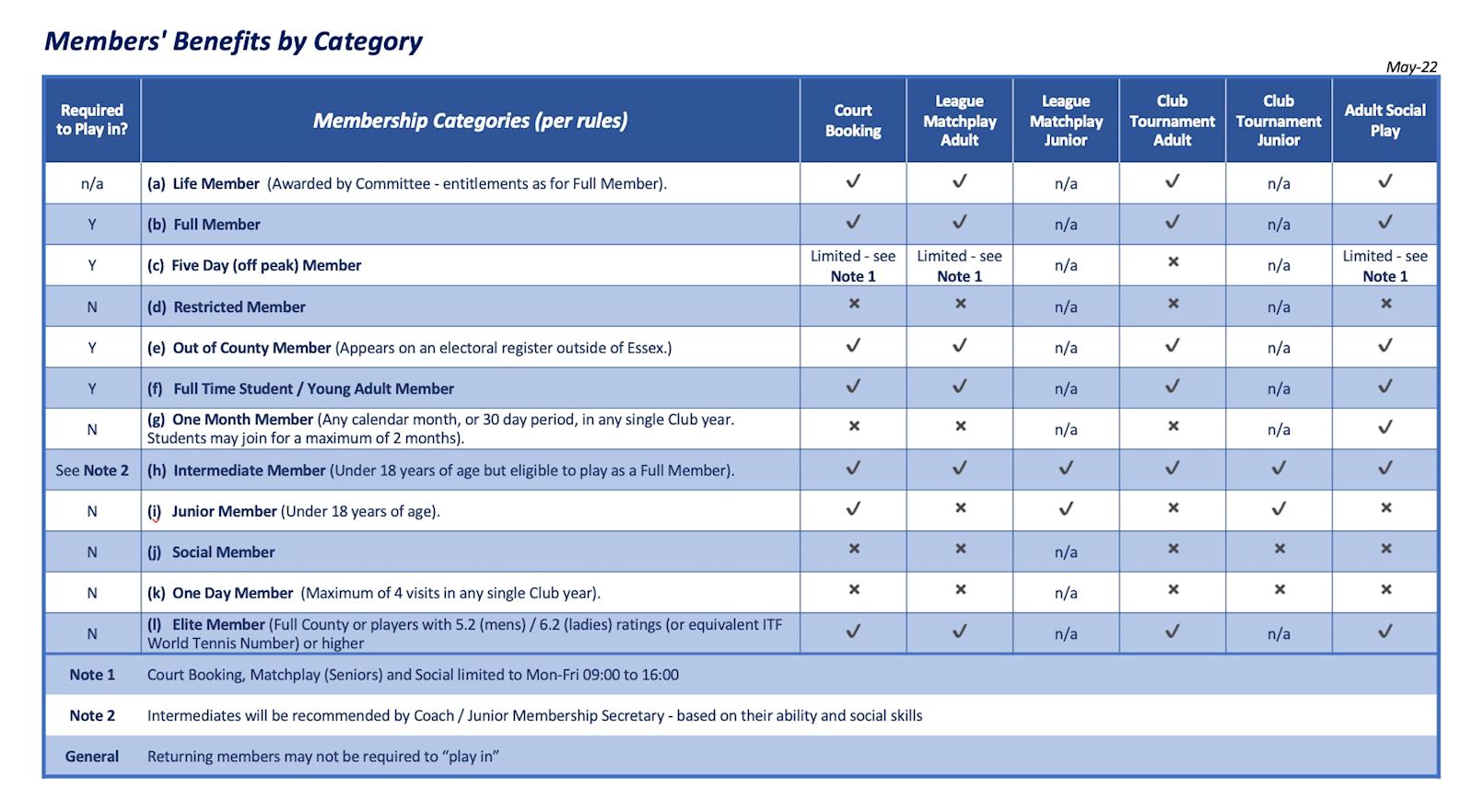 Memberships
2022 Junior - age 08 and under
01/04/2022 - 31/03/2023
Membership for juniors age 8 and under
2022 Junior - age 10 and under
01/04/2022 - 31/03/2023
Membership for juniors age 10 and under
2022 Junior - age 18 and under
01/04/2022 - 31/03/2023
Membership for juniors age 18 and under