Annual Membership 2021/22
Tealby Tennis and Bowls Club is delighted to be open and to offer our tennis membership packages as listed below.
Guest fees for non-members remains at £5.00 per player per session. Please note guest coaches are not permitted without prior approval.
Fees for these new membership packages and guest fees can be paid either by card on our website or to our treasurer, Peter Dixon - [email protected]bytennisbowlsclub.com.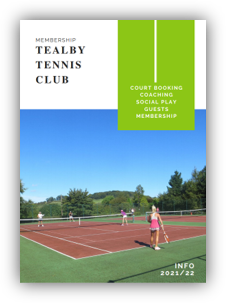 Take a look at our 2020/21 brochure click the image to download: