For Members:
Free online court booking for singles and doubles play (NB: All players on court must be members, unless this is a pay and play £10 per hour booking)
Entry into our Singles and Doubles Box Leagues
1:1 and small group (5 or less) coaching sessions for adults and juniors, run by Matchpoint Management our coaching provider (additional payment for these sessions). See Coaching tab for more information.
Events and tournaments (within LTA guidelines) - see Events tab for whats coming up
Entitlement to vote at AGM
A place in the Wimbledon tickets ballot
For new players (non-members):
Pay as you play £10 per hour per court
1. Club Membership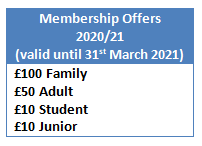 The club has introduced special membership rates for this year to reflect the limited tennis that is available.
Adults £50
Juniors and students £10
Family membership £100
Complete our membership form Membership Form 2020 and email to David Longworth our membership secretary: david.longworth1947@gmail.com
Send your BACS membership payment to: Ashbourne Tennis Club
Account No: 51559968
Sort Code: 30-80-95
Reference: MEMB+ 'name'
2. Pay as you play
We are also offering a special pay as you play promotional rate for new players to the club.
£10 per hour per court.
*New players please contact Sally Longley on 07787118013 or info@ashbournetennis.org.uk to arrange 'pay as you play'. You will need to send your payment via BACS and then Sally can reserve your court for you*
Weekly Timetable - This timetable is currently suspended due to reduced tennis activity at the club
Mondays:
Junior Coaching Programme 5-6pm
Rusty Rackets 7-8pm
Tuesdays:
Social Tennis from 6pm
Wednesdays/Thursdays (alternate):
Social Tennis from 1:30pm
Thursdays:
Junior Coaching Programme 5-8pm
Rusty Rackets 8-9pm
Saturdays:
Junior Coaching Programme 9am-1:30pm
Sundays:
Ladies Team Practice from 9:30am
Social Tennis from 10am (Winter), 6pm (Summer)
As a member you are able to book courts via the court booking tab
As a member you qualify to play for club teams in the Derby leagues at a level to suit you
We also offer:
1:1 sessions
Holiday Camps
Tennis with local Schools
Junior and Adult Tournaments and Matches
Fun social events
Coaching and Leadership opportunities
Junior Coaching Timetable
Mini Reds (5-8 years): Thursdays 5-6pm, Saturdays 9-10am
Mini Oranges (8-9 years): Thursdays 5-6pm, Saturdays 10-11am
Mini Greens (10-11 years): Thursdays 6-7pm, Saturdays 11am-12pm
Yellow Full Ball (11years+): Thursdays 6-7pm, Saturdays 12pm-1pm
Yellow Full Ball (U18, U15, U12): Thursdays 7-8pm
Yellow Full Ball (U15, U12): Mondays 5-6pm
Contact Jen Lewis for more information & booking jen@matchpointmgmt.co.uk / 07971 009338
Membership - this membership is not currently available
We offer a variety of membership packages – see below
Annual subscriptions cover the period from 1st April to 31st March. Members of the Club benefit from:
Access to full coaching programmes
Free use of courts whenever they are available
Free social sessions on Tuesday evenings, alternate Wed and Thurs afternoons
Qualification to play for club teams in the Derby leagues at a level to suit you
Rates reduced pro-rata as the year progresses for NEW members joining part-way through the year. Current Annual Rates are shown in the table below:
| | | |
| --- | --- | --- |
| Type of Membership | Annual Subscription | Notes |
| Adult – tennis | £105 | |
| Adult – social only | £21 | Gives entitlement to vote at AGM and to a place in Wimbledon tickets ballot |
| Full-time Student & Junior Year 12+ | £42 | School year as at 1st April 2019 |
| Junior (School years 7-11 inc) | £31 | School year as at 1st April 2019 |
| Junior (School years 3-6 inc) | £21 | School year as at 1st April 2019 |
| Junior (School year 2 or under) | £11 | School year as at 1st April 2019 |
| Family | £242 | Covers 2 adults and 2 children (Being full-time students or juniors) |
All subscriptions are due for payment by 30th April 2019. An extra £10 penalty is to be paid in addition to the annual subscription by any existing adult member who fails to pay by this date.
The simplest way of paying for membership is by BACS
Account No: 51559968
Sort code: 30-80-95
Add reference: MEMB +your name
Membership Benefits
1. Members may use the club's four courts at the Peak Gateway Leisure Park throughout the year, free of charge, when they are not being used for organised activities such as matches, coaching, club nights or internal competitions
2. The courts can be reserved in advance through the club's booking system (Club Spark) via the website (www.ashbournetennis.org.uk)
3. Members may use the club's floodlights, up to 10pm, at an additional cost. Tokens can be purchased at The Shoulder of Mutton, Osmaston or from Coates and Partners, 51 St John Street, Ashbourne. Each token costs £1.50 and represents 30 minutes of playing time
4. Members may have use of the toilet and changing facilities at the adjoining Peak Gateway Leisure Park, together with the cafe and bar facilities when open. Members may also use the tap located at the front of the adjacent Leisure Park buildings for drinking water
5. The courts are kept in good order, being inspected and maintained by the club's facilities committee on a regular basis. A sinking fund is maintained to cover the long term maintenance / renewal costs
6. Members have the chance to take part in matchplay at both adult and appropriate age group levels. The club operates the following teams in the Derby Area Tennis League.
4 men's teams Under 16 Mini Green (Under 10)
2 ladies' teams Under 14 Mini Orange (Under 9)
3 mixed teams Under 12 Mini Red (Under 8)
The club tries to offer all members who wish to play in matches the opportunity to do so. Team captains select teams taking into account all the circumstances including standard of play, player availability, etc. Members who wish to make themselves available for selection may contact the Club Secretary or Junior Development Officer. They will then put them in touch with the appropriate team captain.
Club Secretary: Sally Longley 07787 118013 / sally.ashbournetennis@gmail.com
Junior Development Officer: Jan Leslie 07921 758234
7. Coaching is available to all members, both seniors and juniors, through the coaching team at Matchpoint Management. Contact details as follows:
Pete Leadbetter Company Director 07879 640613
Jen Lewis Coaching Programme Administrator 07971 009338
The latest coaching programme can be accessed via the club website (www.ashbournetennis.org.uk)
8. Members can take part in internal club competitions. The club currently operates a number of these including Junior Championships and Men's and Ladies Singles Championships and friendly Team Competitions. A small charge is made to cover the cost of running the competitions
9. Members may also take part in certain organised social tennis sessions free of charge.
The senior section's main club night takes place on Tuesday evenings from 6pm. These are informal, fun sessions when members get to know each other and practice their tennis in friendly doubles matches. Additional sessions are run on alternating Wednesday and Thursday afternoons from 1:30pm. All adult members and juniors are welcome at these sessions.
In addition, we operate Captains invitation evenings on Wednesdays in the winter for team players
10. The club is affiliated to the Lawn Tennis Association (LTA). Members benefit from liability insurance through the club's membership of the LTA
11. Membership of the club enables members to obtain free British Tennis Lite Membership. This, in turn, gives members the following:
Entry into the Wimbledon Ticket Ballot through the BTM system for those 8 years and older
An LTA rating
Regular online communications
Discounted upgrade to team membership
12. The club organises a number of social events and activities each year from a Wimbledon Ballot Evening, barbecues, family events to Christmas parties
The club also operates a Bonus Ball Competition – please contact Rachel Lewis for details (rachellewis350@gmail.com)
13. The club has negotiated discounted rates for equipment and clothing from www.pdhsports.com (01332 843139) – shop in Duffield
14. Tennis balls can be purchased in cans of 4 balls at a discounted cost of £4 per tube. These can be purchased through John Duncan (01335 348384)