Competition
Match Report - October 2018
Mon, 29 Oct 2018 00:00
The Harbury B team has had a good start to this winter's Floodlit League with two home victories. As an indication of the amount of talent available in the club, these were achieved with two almost completely different teams. Firstly, it was victory by 5–3 for Jane, Josh, Olly, and Sue over Deddington C, followed by Adam, Helen, Nigel, and Sue winning 6-2 over Hook Norton C. This is a very good start to the 'winter campaign' – however, last winter we scored well at home but poorly in the away matches. Hopefully, this year, and playing in a lower division, we can maintain this good start once we start travelling, and playing on different surfaces.
Floodlit B's next match (Thurs 8th Nov), will be a "top of the table" clash againts Middleton Cheney B.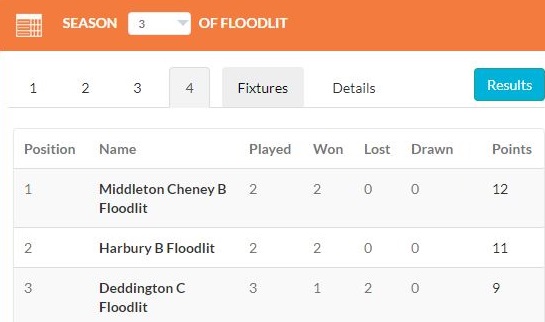 Unfortunately our other 3 teams have had a less successful start to the season, and have managed 1 draw and 4 losses between them.