How To Book A Court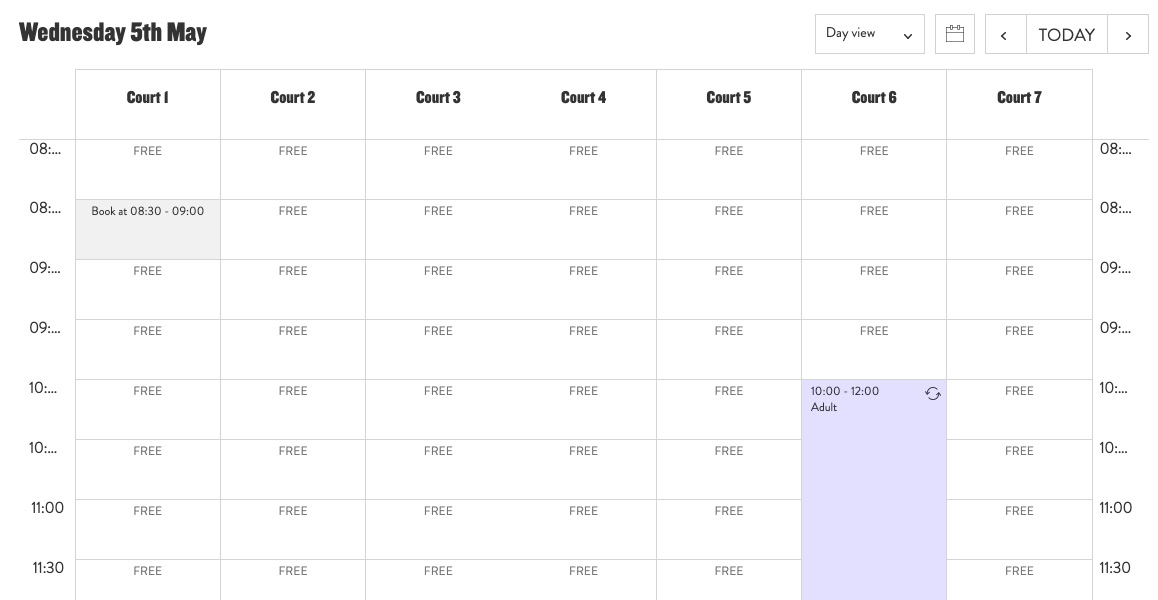 Once you have joined ClubSpark as a KTC member, you will be able to book courts FREE at Knutsford Tennis Club as part of your Membership Subscription. Our bookings secretary is available to help with any problems or queries - please email Zoe at [email protected]
We have seven tennis courts available with floodlights and access from 8am - 10pm, 7 days a week, 365 days a year, to play whenever you want.
The booking system is available either online or via the Clubspark Booking App on your smartphone. NOTE: Adults who are booking for Juniors need to use the website, not the app.
If floodlights are needed, don't forget to take some light tokens with you. More details on the floodlights are Here.
There are two ways of booking a court :
1. WEBSITE BOOKING
Sign in using your ClubSpark credentials (that you set up when you joined the club).
Parent/guardian booking for a Junior - at this point click on your own name top right and then select the Junior member's name.
To book a court, click on your desired booking slot on the booking sheet.
A box pops up with the court and start time you have chosen; use the drop down box to select the required end time and hit Continue Booking, then Confirm.
You can then choose to Book Another Court or View My Bookings.
The system sends a confirmation email to you with the details of your booking.
To cancel a booking on the website, click on the My bookings tab on the booking sheet, top right. Then click the Cancel tab adjacent to the booking you would like to cancel, altenatively within the email, there will be a link, 'click here to manage your bookings', if you click this link, a new page will open up on Your bookings page where you can cancel as above.
This info is available online with screenshots at https://sportlabs.zendesk.com/hc/enus/articles/202250669-Booking-A-Court
2. CLUBSPARK BOOKER APP
The ClubSpark Booker App is available for free download on iOS and Android App stores
It is designed for members/players to be able to make court bookings from their SmartPhones. Those who are parent/guardians will not be able to make bookings on behalf of a Junior on the app - this will need to be done online via the online booking website.
To use the Booker app, you will first need to log in; please ensure that you are using the same details as online to access ClubSpark when making a court booking, then :
Once you are signed in, you will be able to view your upcoming bookings, previous bookings, and make a new court booking.
Fiirst click on the blue Book A Court button at the bottom of the screen. The app will first take you to My Clubs which will include venues where you are a member, or have previously made a court booking. Select the venue and you will be taken to a screen where you will be able to select court, time, date and duration.
Look for + and – signs to change the duration of the booking. When you're happy, hit Confirm.
You can view available courts as a table, as on the website online, or as a scroll for available times and courts. The icon to switch between views is in the top right corner of the screen.
Once the booking is confirmed it will appear under your Upcoming bookings. As the app is linked with the club, it will also appear on the club's booking sheet online.
If you want to cancel your court booking via the app, you will first need to log in to the app and head to the Upcoming tab. Here you will be able to select the booking you wish to cancel. You will then be able to see a red Cancel button at the bottom of the screen. You will need to click on this, where you will be prompted to confirm that you wish to proceed with the cancellation. You can only cancel bookings BEFORE they have started!
The above info is available online at https://sportlabs.zendesk.com/hc/en-us/articles/206275005-ClubSpark-Booker-App-Making-And-Cancelling-A-Booking- and also includes screenshots.
Notes
If, after booking, you find that you are no longer able to play, please cancel your booking so that others may use the courts.
Junior members must be supervised by a ClubSpark Registered responsible adult.
It is the responsibility of the person booking the court to ensure that the conduct and behaviour of all participants on their booking is appropriate and courteous at all times. This includes NOT walking behind players participating in a game when en route to your court. Please WAIT until their GAME has completed before quickly crossing behind the players. This is standard court etiquette and should be observed at all times.