LTA Advantage Membership (BTM)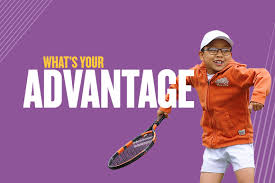 KTC encourages its members to sign up for a FREE 'ADVANTAGE' - British Tennis Membership - from the LTA.
Please register today HERE or call 020 8487 7000 if you haven't already - and then associate Knutsford Tennis Club as a venue with your ADVANTAGE membership.
Each year, ADVANTAGE members registered to an LTA club such as KTC and having indicated that they want to 'Opt In' to an offer of Wimbledon tickets, will be automatically entered into the 'Wimbledon Draw' (managed centrally by the LTA). Make sure your ADVANTAGE membership email details are up to date, so as not to miss out on the chance of Wimbledon tickets.
If you play for any of the club's teams then you will also need to have an ADVANTAGE membership registration.
As well as access to the Wimbledon Draw, ADVANTAGE members get access to exclusive offers, discounts on tickets and clothing, whilst keeping up to date with the latest British tennis news with a monthly newsletter.