Competition
Northumberland Girls Under 12's County Cup Success
Sat, 31 Aug 2019 00:00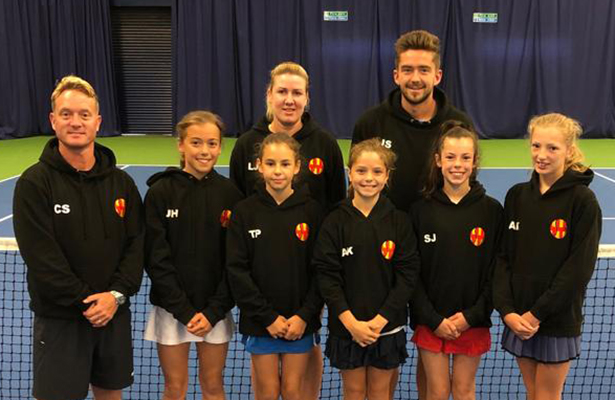 Northumberland were represented impressively at this year's 12 & Under girls county cup event and fought their way to an impressive achievement.
The team consisted of Abby Kelliher, Teodora Prisadnikova, Jess Hart, Aimee Knowles and Sophie Jackson and was captained by Northumberland county cup co-ordinator and academy coach, Jordan Simpson.
First, the girls travelled to Holcombe Brook tennis centre in Bury, Manchester to compete in the qualification event. On day one, the girls comfortably beat East of Scotland 4-0 and then Cheshire 3-1 to wrap up the first day. Next up was a strong Lancashire team and after fantastic singles performances from Abby, Teddy and Jess, the tie was over. The girls went on to win 3-1, with Abby and Aimee losing a tight doubles match. Finally, the girls faced North of Scotland, knowing a win would see them through to National Finals. Again, convincing singles performances from the girls saw them 3-0 up after singles. The icing added to the cake by Jess and Sophie who won the doubles to make it 4-0. The team was chuffed to have qualified for National Finals.
National Finals were played at Bolton Arena two weeks after qualification. Captained again by Jordan but this time with help from Lauren Jones and Northumberland Academy manager, Chris Sanderson, the girls again performed fantastically at an event full of high standard u12 tennis.
On day one, Abby, Teddy and Jess won three convincing singles matches, backed up by some solid doubles from Abby and Jess, seeing the girls beat Gloucester 4-0. On day two, the girls faced Warwickshire and came out on top with a 3-1 victory. The final match in the group stages saw them take on a strong Middlesex side who had walked both matches against Gloucester and Warwickshire. Arguably going in as slight underdogs, the Northumberland girls left it all on the court and managed to fight their way through to an exciting 3-1 victory, with Abby and Teddy coming back from a set down in the doubles to finish the tie off in a third set tiebreak. These results meant that Northumberland had finished top of their group and would play top of the other group on Sunday for the National Title. This would see them face another tough challenge, with a final against Hertfordshire.
Throughout the weekend, the girls showed they were all capable of playing at this high standard, competing well regardless of the outcome. After the singles, Northumberland stepped on for the doubles 2-1 up after a well contested 3 set match which Abby managed to come out on top of. At this point, the girls sat a doubles away from bringing a National Title home to the small county of Northumberland. The Hertfordshire girls played an intelligent doubles and managed to draw things level at 2-2. This meant the National Title would be decided by a shootout. Unfortunately, on this occasion the shootout didn't quite go Northumberland's way and after a close 10 point tiebreak, the title went to Hertfordshire.
Although this left the girls devastated, it really was a fantastic weekend of competitive tennis where the final could have easily gone either way. The girls returned to Northumberland with a runners up place nationally, which is an incredible achievement. An achievement which highlights the hard work of the players, coaches and others involved with the squad of girls who travelled to compete for their county.
Jordan Simpson – Quote
'I am incredibly proud of what the girls have achieved over these two weekends of competitive tennis. Each of them have contributed massively to the success they've experienced and although we are all disappointed to miss out on a National Title by such fine margins, this set of players continue to be a fantastic group to work with. I hope the success over the last couple of weeks motivates them to continue working hard on court, with this runners up position as proof that they are good enough to compete at a high level nationally.'