Reports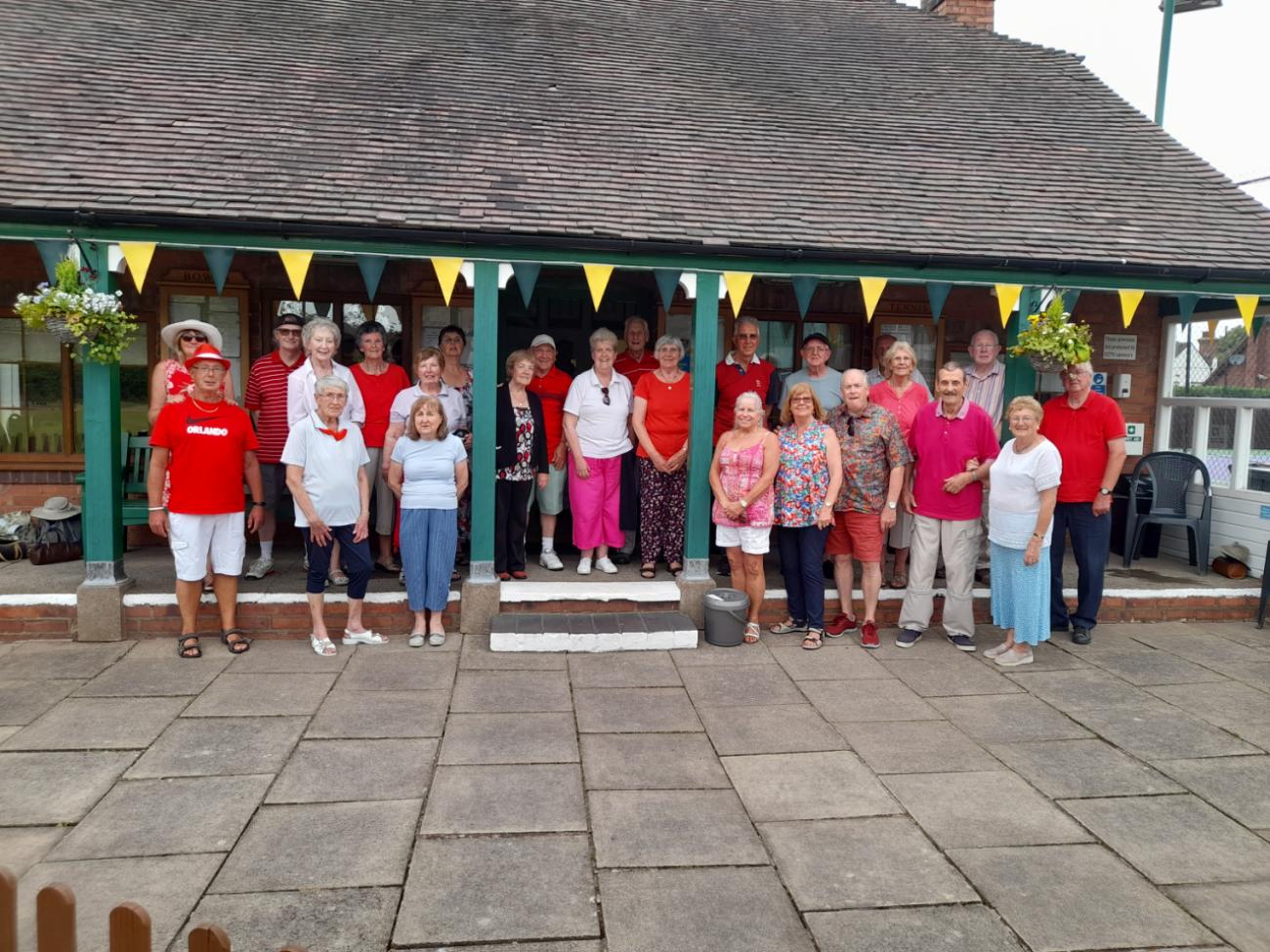 Strawberry Fayre
*************************************************************************************************************
Toseland Trophy
Winner: Mike Humphreys - Score: 38
Runner-up: Joyce Moore - Score 30
This competition is for members who have never won a bowls trophy or cup at the club. The eight competitors this year played a round robin format and therefore 7 games of 5 ends each. Congratulations to Mike and many thanks to everyone who participated on an extremely cold afternoon. It proved an interesting experience for the very new members, Lidia, Jane and John who gave good accounts of themselves. Thanks to those who came along to mark and support the players and special thanks go to Sue who organised the event form her sick bed!
Barry Holmes Trophy
Gents v Ladies Competition. Due to there being a shortage of ladies Derek and Roger played for the ladies and Roger was suitably dressed wearing his "blouse"! The competition was based on a round-robin format, with each pair playing 6 games up to 5 ends basis on the 4-3-2-1 scoring method. The outcome was that the gents beat the ladies by 14 shots showing what a close game it was. Thanks to Sue for organising the event and for keeping the scores.
Russell Cup
A great competition organised by Sue Bates. Initial rounds and the semi-final were the best scores after 10 ends. The final, played up to 21, saw Rob Bates and Matt Bulzacchelli compete aginst Jackie Kirk and Roger Evans. Jackies and Roger put up a great performance with a good lead at the half way mark but Rob and Matt dug in and came out winners 21-18. Congratulations to them and to Jackie and Roger for making it a great final. Thanks Sue for organising the event and to all those who helped out.
Queens Jubilee Competition
Winners: Dawn Wellings, Kath Brown and Dave Henderson
Runners Up: Pauline Jenkins, Ian Jones and David Storr
Tamworth Bowls and Tennis Club members rarely meet but the Bowls Section invited the tennis club to participate in a Jubilee picnic and fun competition. There were 24 bowlers and 12 tennis club members taking part, with a tennis player in each team of 3, with four rounds to be played. The tennis players acquitted themselves extremely well and special congratulations to Dawn who was in the winning team and very well done to Ian who made the final.
The photograph shows ladies Captain Sue Bates, who organised the event, presenting the cup to Dawn, Kath and Dave.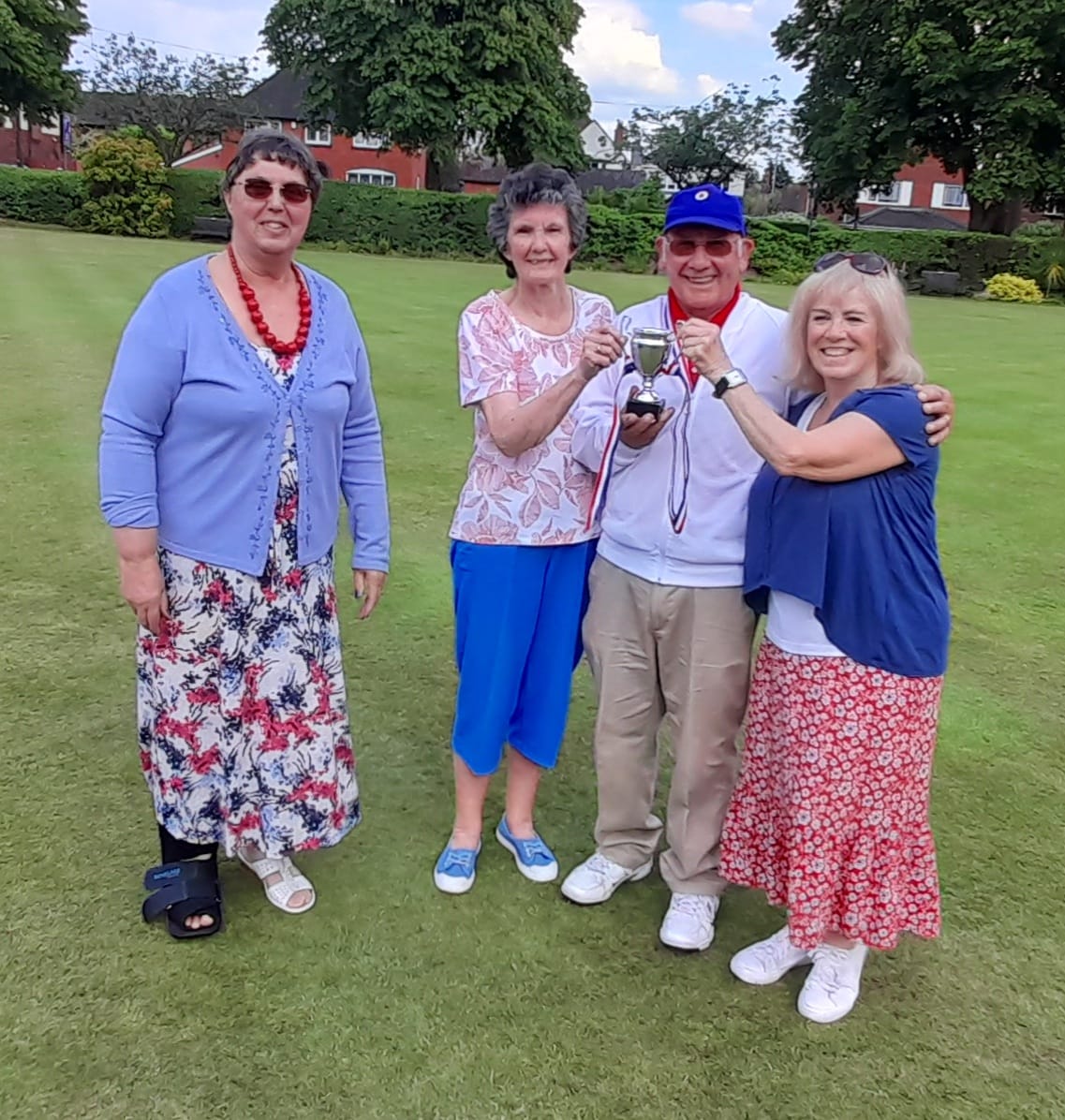 Howard McAneny Memorial Cup 2022
Winners: Wendy and Keith Evans
Runners-up: Jackie Kirk and Rob Bates
Ten couples took part in this round robin competition each playing seven ends. Everyone played nine games with Wendy and Keith edging out Jackie and Rob by 2 points after being level at the penultimate stage. Congratulations to them and thanks to all who took part.
Spital Bowls Club v Sons of Rest
Contesting The Bill Dewis Memorial Cup
Sons of Rest hosted Spital Bowls Club on their lovely green in the castle grounds for the first leg of this keenly contested competition, where they won the match by 9 shots. Spital will hope to gain the advantage when Sons of Rest play the second leg on their home green later in the season. It was good to see Ladies Captain Sue on the mend and back in winning action alongside Rob after her unfortunate accident. The hosts provided an excellent afternoon tea after the match which was played in good spirits on an extremely hot afternoon.