Court usage
The table below gives a general idea of what's happening at the courts over the course of an average week. Also look at the events page for one-off events.
For exact details in any specific week, check the calendar on the booking page on our website which will confirm when and which courts are booked for which activities.
Don't forget, you still need to book a court whenever you play, and you can do this on the booking page.
This table is accurate from April 2022. Times and activities will change as the seasons change.
DAY
TIME
EVENT
Mondays
6pm, 2 courts
Mixed club social tennis,
team players
Tuesdays
6pm, 2 courts,
some weeks
Mixed doubles league matches
Wednesdays
6pm, 2 courts
Mixed club social tennis,
all members welcome
Thursdays
6pm, 2 courts,
some weeks
Ladies' doubles league matches
Fridays
Afternoons and evening,
2 or 3 courts
Coaching
Saturdays
Morning, 2 or 3 courts

2-6pm, 3 courts,
some weeks
Cardio tennis, and coaching

Men's doubles league matches
Sundays
10am-12, 2 courts
Mixed club social tennis,
all members welcome
Booking courts
There are four courts you can book: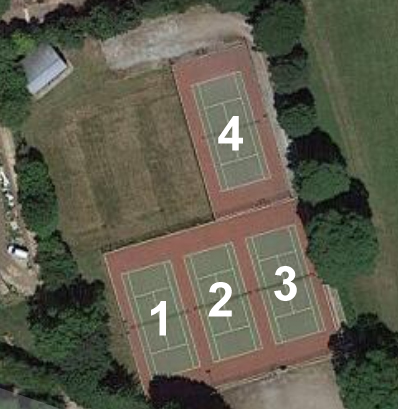 Please cancel your booking if you change your mind so others can book the court instead.
Please play on the court you have booked.
The booking system is easy to use. There are two ways you can access it:
- the booking page on our website
- your smart phone by downloading the app 'Booker' by ClubSpark
Either way, you will need your ClubSpark registration to access the booking system. If you do not already have a registration you will need to set up an account with ClubSpark. Any questions or problems with booking, contact Pascal: [email protected]
Mixed club social drop-in sessions
Three mixed club social tennis sessions happen each week:
10am on Sundays, all members all year round
Mondays, 6-8pm, for team players while daylight allows, usually April to September (You are still welcome on Mondays if you don't play in a team, but be aware that people are expected to be reasonably consistent in serving and rallying even if not at team standard yet. But we know it's only by playing at higher levels that you keep improving...)
Wednesdays, 6-8pm, all members while daylight allows, usually April to September
This is a good way to meet other club members. Juniors who can serve and rally are welcome too. We rotate partners amongst the players who are there at any session. Stay for as long or short as suits you.
If you are going down to one of these sessions, please drop a quick message in the Bamford Social Tennis WhatsApp group, so other people know there'll be someone there.
Bamford Social Tennis WhatsApp group
There is a WhatsApp group you can join to find out if others are going down to the next social drop-in session.
You can also use this group to arrange social play with other club members at a time to suit you.
Email [email protected] if you would like to join this group.
Ladies midweek doubles
There is a WhatsApp group where a game or two of doubles is organised week by week. Email [email protected] if you would like to join.
Club tournaments
Every year we run a club tournament to compete for the beautiful trophies across five categories - men's singles, women's singles, men's doubles, women's doubles, mixed doubles. This year, 2022, we will run this as series of knock-out rounds from June and over the summer, culminating in a Finals' Day in mid-September. Details of tournaments are circulated to all members, all of whom are invited to enter.
Tennis for juniors
With so many juniors coming on through the club we want to support them to play socially and competitively with the club.
Older juniors, to gain match practice, are welcome to come down to mixed club social sessions and join in with mixed doubles with our adult members.
League match tennis 2022
If you are interested to join please email [email protected] who will put you in touch with the captains.
Depending on the time of year we usually have three teams playing – ladies, mens and mixed – in
the Sheffield and District League.
New squad players are always welcome, so please get in touch, even if you are not sure about your
current level of tennis. Some of our players are amazing but we don't all need to be amazing to take
part - which is just as well for most of us... You don't have to commit to playing in every match; being
available for just one or two can be a great help.
We are keen to include as many players as we can so if you have never played in team matches this might give you an idea of what to expect.
You need to be able to serve fairly consistently and make a few returns
Matches are sometimes at Home, down at our club, and otherwise Away at our opponents' clubs, in and around Sheffield. Full list of the other clubs in the league here.
The team comprises 2 mixed pairs and will play 2 rubbers, i.e. 2 sets against each opposing pair. The match will generally last about two to two and a half hours
The home team provides tea and biscuits at the end of the match
The match fees are £3 per player
Our aim is to play some fun competitive tennis and if we manage to win a few matches all the better!
Using the floodlights
It is possible to play tennis in the evenings on Court 1 under the floodlights. The floodlights are turned on and off in the clubhouse. If you want to use the floodlights, please email the secretary for instructions of how to access the clubhouse and operate the lights. (It's simple!)