4/3/21 - In line with current lockdown guidelines, the tennis club is currently closed. However, as the club will reopen from 29th March, the weekly coaching programme will resume on 12th April following two weeks of Easter Camps available to book here. All coaching lessons that are partway through the block will roll over to when we can restart.
In the meantime, contact Head Coach Danny Burrell at

[email protected]

or 07811 288046 to book or for any coaching enquires!
Group lesson bookings:
£6.25 per lesson for members and £7.25 as non-members! See below for what we offer: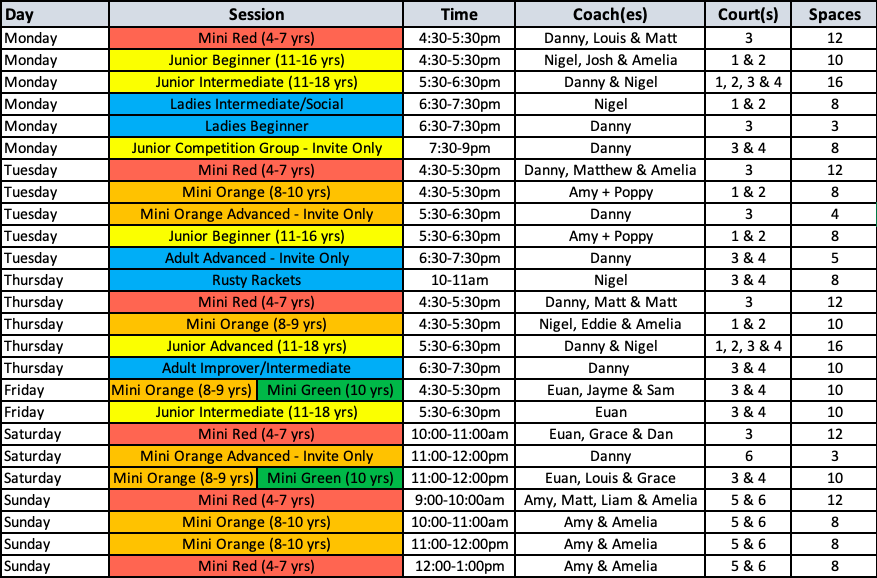 Click here to view our coaching programme video!
We adhere to strict social distancing guidelines and low player to coach ratios to ensure that lessons are incredibly safe, in doing so keeping the risk of coronavirus at a minimal.
Please note that although we cannot give refunds for group lessons missed due to self-isolation periods, players may 'double up' on lessons when they are out of isolation upon request. For example, this means that a child can attend two Thursday Mini Orange lessons alongside their usual Sunday Mini Orange lessons on the same weeks, permitted that sufficient spaces are available.
Take a look at the various tabs under 'Coaching' for more information.
To book tennis coaching lessons, simply click on the course that suits you best. You can refine your search by using the filter below.