Overview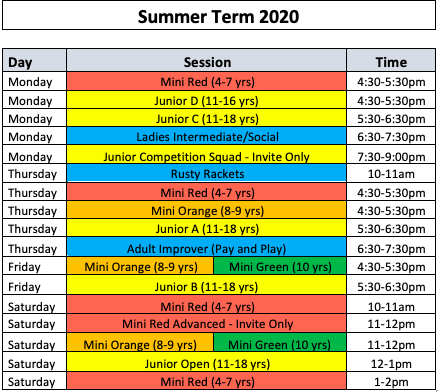 We have a fantastic coaching programme, welcoming children and adults of all ages and abilities, spanning over four days of the week and supported by three Level 3 tennis coaches.
Our 2020 Coaching Programme runs for 38 weeks of the year and lessons are payable on a term-long course basis. If you would like to join partway through the course, this can be paid on a pro-rata basis. Our terms run as follows:
Spring Term (Jan-March) – 12 weeks
Summer Term (April-July) – 12 weeks
Autumn Term (September-December) – 14 weeks
Reviews:
'Great friendly club with high level tennis … brilliant at developing kids with an amazing programme for all abilities. Danny has played a key part in improving my daughter's tennis and shown huge enthusiasm in her progress…'
Book your free taster session:
If you are interested in trying out any of the courses available or have any queries about our programme, please contact Head Coach Danny Burrell on dannyburrelltennis@gmail.com or 07811 288046 to organise a free trial session. Alternatively to book coaching sessions, just click here.