Welcome to
Swanmore Lawn Tennis Club
Welcome to SLTC
We are your local community tennis club run by volunteers on a not for profit basis. Come along and share our passion for all forms of lawn tennis and enjoy this social and competitive sport for all ages.
CLUB FINALS DAY - Saturday 23rd June 2018
The finals for the open and junior tournaments were played last Saturday and detailed under the website 'Tournament' tab. Well done to all our winners and a big thank-you to everyone who took part playing in and organising this very successful event.
The presentations of the prizes were preceeded by a presentation to Di to mark her retirement and followed by the annual BBQ.
We are unable to post pictures taken on the day on the website unless permissions are in place from you which has ruled out the majority but plesae contact Bash directly if you would like an individual copy.
Team Matches
We have also added a link to the 2018 Match Fixture list under the 'Club Document' tab so come along and support the teams or think about offering yourself to play via the coaches or Chris Tisson.
BOX LEAGUES
A link to the new box leagues is at the 'Singles Boxes' tab.
MEMBERSHIP
Renewal notices have now been sent out so please attend to these at your earliest convenience. SLTC is a community sports club managed by volunteers and it is operated on a not for profit basis for the benefit of our membership.
If you'd like to join us then take a look at the 'Membership' tab, come along to one of our mix-ins or contact the secretary at the email below for further details.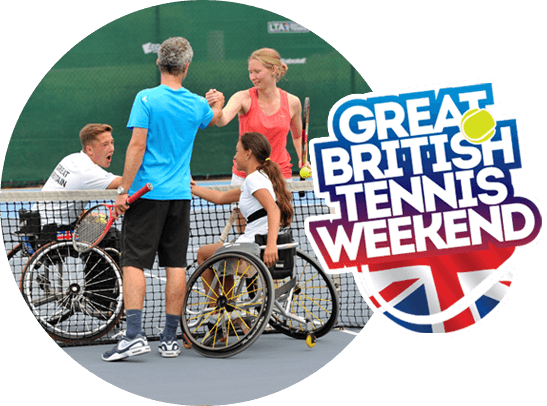 We're hosting a Great British Tennis Weekend event!
Try tennis for free this summer at a Great British Tennis Weekend event! Rackets and balls will be provided, so whether you've never picked up a racket before or you're a seasoned regular – there is fun to be had.
How to find us
Mayhill Lane Swanmore SOUTHAMPTON Hampshire SO32 2QW