JUNIOR TENNIS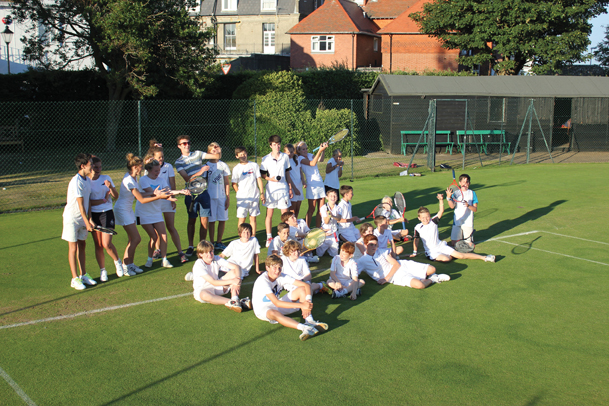 Although a large number of you joined and supported the club last year Walmer Lawn Tennis Club is well aware that due to Covid it was not in a position to provide group coaching and activities especially ' Friday Night is Junior Night'.

For this new season of 2022/23 we intend to put this right by inviting you all to join the club with the expectation of fun and well organized tennis for the summer. Walmer Tennis Club in association with Tides Tennis Centre and Your Leisure will present a Junior Coaching Programme over 12 months for all juniors and minis who join our club. Tides Tennis Centre will provide qualified LTA coaches and Walmer Tennis Club will provide the wonderful location and facilities not only on Fridays but also on weekday after school afternoons and summer holiday camps. The club will also be introducing the popular LTA junior tennis initiative LTA Youth and Youth Start.
'Friday Night is Junior Night'
For many years Walmer Tennis Club has welcomed its juniors to use of all its facilities on Friday afternoon and evening: the grass courts, hard courts and the old club house and bar. Coaches will provide mini red, mini orange, mini green, junior and performance coaching therefore covering all ages and standards of play. The bar will open to provide refreshments for hard working Mums and Dads after a long week.
As the sun begins to go down can there be a better place to start the weekend with the kids having fun and the adults being able to relax and socialise?
In order to join 'Friday Nights' Minis and Juniors need to be a member of the club and in so doing they will be able to participate in at least 9 evenings of organized coaching and play every Friday for no further payment.
The opening 'Friday Night' will be on Friday 29th April 2022 from 4.30pm to 7.30pm.
Details on how to register and sign up your Mini/Junior to a Friday session will be on the website after Easter 2022.
We would also ask parents to join as social members for £10 if they are not already members.
Midweek Coaching:
Smaller group coaching will be offered to juniors and minis on 2 mid week afternoons between 4.30pm and 6.30pm. This will be arranged by Tides Tennis Centre and be on the hard courts at Walmer as a pay per term basis. Further details in April.

Holiday Camps:
Holiday Camps will be run at Walmer during Easter and the summer holiday. There will be more information soon on the Coaching website page to be able to register for one of the August sessions running for 4 to 17 year olds on Tuesdays, Wednesdays and Thursdays startiing 2nd August and finishing on 18th August 2022.

LTA Youth and Youth Start:
The LTA have recently launched a new initiative to encourage children to take up tennis as a fun sport. As this rolls out Walmer Tennis Club will be introducing coaching to embrace this initiative.
The committee have been doing a lot of planning and will continue to put a lot of thought and energy into opening doors at Archery Square to encourage children back to the fun of playing tennis at our club.
Following a very successful number of children joining our Club, the Mini and Junior memberships for 2022 are thriving. Our objective now is to help all our young members to improve their tennis skills.