Club
Webinar on Disability and Inclusion
Fri, 22 Apr 2022 00:00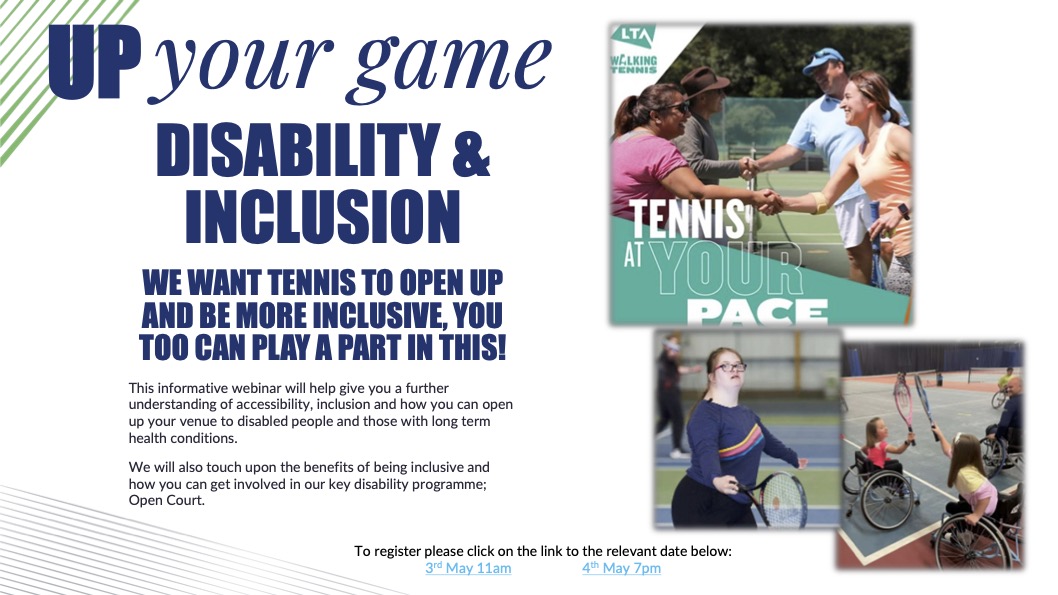 The LTA have set up some 1:1 online drop-in sessions which are taking place on 27th, 28th April and 4th May. These drop-in sessions will enable you to discuss up to 3 of the topics listed below with your LTA Regional representative (Tony Devenish or Leo Tutt).
Tony covers: Buckinghamshire, Cambridgeshire, Essex and Norfolk while Leo covers: Bedfordshire, Berkshire, Hertfordshire, Oxfordshire and Suffolk.
Membership Growth

Membership Retention

Facility Development

Development Planning

Club & Coach Relationships

External Relationships
To book a slot (40 minutes) with the relevant person, please e mail your preferred:
Meeting times (10am, 11am, 12pm, 2pm, 3pm, 4pm)

Dates (27th April, 28th April, 4th May)

Club development topics which you wish to discuss
We will then confirm the meeting and send back the meeting invite link.
As part of our Up Your Game webinar series the Regional Team will be delivering a Disability & Inclusion focused webinar on 3rd May (11am) and 4th May (7pm).
If you are interested in watching some of our previous national club support webinars, you can do so here: Venue Webinars (lta.org.uk)