Club news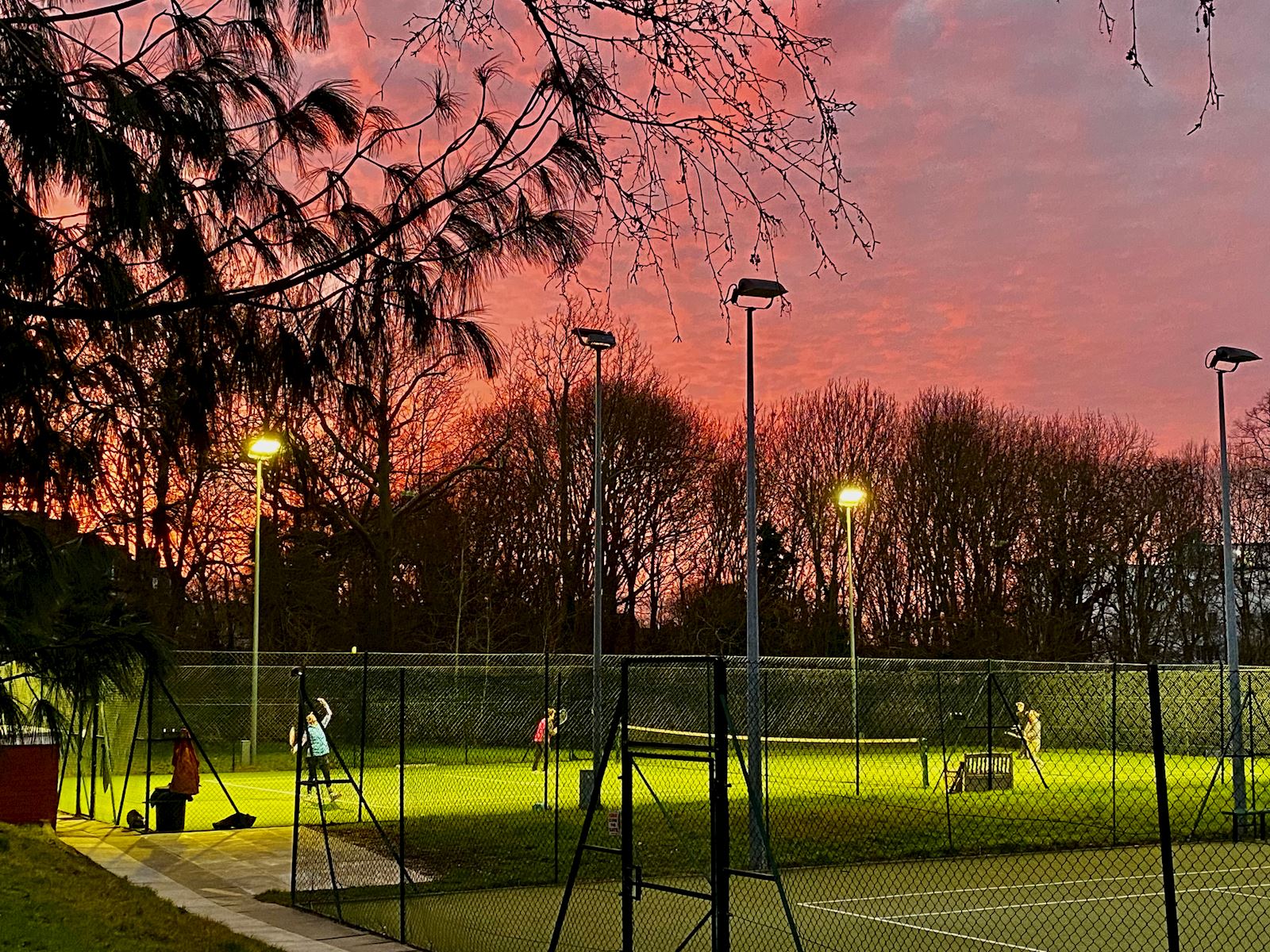 Jubilee Tea: There will be tea and cakes on Saturday 4 June at 4:00pm in the clubhouse to mark the Queen's Platinum Jubilee. 22 May
Junior Club Session: A reminder that there is a Junior Club Session for junior club members aged 12-16 from 5:30pm to 7:00pm every Sunday . The session is for junior club members only and members need to check with Joe to ensure that they are at the right level for the session. There will be no charge, and balls and floodlighting will be provided. To attend, call Joe on 07956 265158 or email him at [email protected]. 9 May
Upgrading of our courts and lights during 2022: On court 4 in 2018 we installed a new artificial grass surface and earlier this year we upgraded to LED lighting. This year, on courts 1-3, we plan two major projects: installing LED lighting in June, and repairing damage to the court foundations and laying a new artificial grass surface from mid-October to end-November. While the new surface is laid, we will make arrangements for club members to play at The Pavilion Tennis Club - more about that later. 11 Mar
Guests: A reminder that one member may bring only one guest at a time, and no one person may be brought as a guest more than five times in a membership year, irrespective of whose guest they are. Please:
register the guest name and proposed date of play by email in advance before the guest attends by emailing

[email protected]

; guest registration is a condition of our insurance

pay the guest fee (£5 for an adult or £3 for a junior) by bank transfer immediately after play

Please note the guest book in the clubhouse is no longer being used 16 Mar
Ball Machine: First thing to do is request an induction session from Ian or Sylvia by emailing [email protected].
Then, to sign up to use the ball machine, all you need to do is:
pay the one-off £30 fee for this membership year by bank transfer to the club account

then email

[email protected]

to tell us you have made payment

allow a day or so for us to check and update your membership record so that you can book.
To book, you need to book your court session first as usual, then change the view at the top of the booking sheet to 'Ball Machine' which will allow you to book the machine for up to one hour at the same time as your booked court. You must book the court first: it won't work if you book the ball machine first. All this information and more can be found on the Ball Machine page here >>. 20 Mar
Club WhatsApp: It has been suggested that we create a club WhatsApp group and so if you would be interested in this please email Sylvia Hines at [email protected] with your mobile number and she will add you to the group. Sylvia will also be talking to members about the purpose of the club WhatsApp group and there will be a notice outside the clubhouse with more information. 15 Nov
Tennis Balls: If you are buying tennis balls from the club the cost is now £6 per tin. 15 Nov
Court 4 Bookings: We need to remind members that court 4 bookings are limited to one hour and if you would like to play for 1.5 hours then a single booking must be made on courts 1-3. We ask that you do not book one hour on court 4 and then transfer to one of the other courts. Please book court 4 on the half hour so that there aren't awkward unusable half hours between the bookings. Court 4 is not exclusive to the club: it is a shared resource with the Methodist estate, and in the past we had use of the court for only 50% of the time. Now we have access all the time, but we have to ensure that there is availability for Chester House students and church groups. In addition, it is desirable that Court 4 is used by juniors and families where the risk of disturbance to other players is minimised. We know that Court 4 has now become very popular, and in order to give estate users fair access to Court 4, club members are encouraged to try to book Courts 1 to 3 in preference to Court 4, especially at weekends. 16 May
Booking courts: The booking system lets you book for the current day and the next six days. It is possible to have one booking each day.
Please remember to cancel a booking if the court is no longer needed.
We ask all members when booking a court to avoid if at all possible leaving half hour gaps before or after your booking., especially on Saturday mornings which is a popular time. It is possible to book on the half hour!
We ask that members do not just turn up hoping that a court will be free - please book a court by going to the website and clicking on court bookings. 7 May
Junior coaching: For full details of programmes with Maria and Joe please click here >> 26 Feb
Regular court maintenance programme:
On 29 July 2021, all 4 courts were power brushed.

On 7 December 2021, all courts were power brushed, moss killer was applied and infill was topped up on Courts 1-3.

On 25 February 2022, all courts were power brushed.

On 22 March 2022, moss killer was applied to all 4 courts.

On 21 April 2022, Court 4 was power brushed and topped up with sand infill.

On 22 April 2022, Courts 1-3 were decompacted, which revives the pile and aims to restore the surface to its original state, then power brushed and topped up with rubber infill. 22 Mar

​Singles Ladder: Please see below information about the Singles Ladder which was started in November 2019. We are hoping there will still be interest in the ladder and that members will register using the link below. To Register: https://playwaze.com/ConfirmInvitation?token=mhml3993 and email confirmation to: [email protected]
Just to remind you, these are the basic rules:
Joe will initially arrange into 3 ability divisions so that everyone can play roughly at their own level (random position within division), you can challenge the division above.

You can challenge any of the 3 people above you; if the challenger wins they take the place above the loser.

We will play a single 'Pro-set', the first to win 9 games, if it's 8-8 then a normal first to 7 tie break. Games will be played with 'normal rules' ie, proper deuce, change ends on odds.

A challenge must be accepted and played within 3 weeks with mutually agreed exceptions, injury, holidays, etc.

There'll be a physical ladder board with T-card names that can be re-arranged but strictly for display only. All challenges and scores must be done on-line (Zero tolerance!). 28 Apr
Parking at MHMLTC: We ask that, where possible, you walk or cycle to the club. If you need to drive, we have 7 spaces in our car park and we ask that the first car to arrive parks at one end or other of the car park, to encourage others to park so that we make use of the 7 spaces. In addition, we need to remind long standing members and to advise new members of the following:
We have no right to use car parking spaces at The Paddock. It is merely a friendly arrangement with a neighbour

We may only use The Paddock spaces when our spaces are full

When using The Paddock spaces we must always leave 2 spaces empty so that we do not deprive any resident or visitor of a space

We are not permitted to park in the curve opposite the entrance to The Paddock parking. 5 Aug
Clubhouse Security: If court 4 is the only court being used and there is no-one in the clubhouse, in the interests of security please lock the clubhouse. 19 Nov
Supervision of Juniors: When children attend formal coaching sessions or holiday camps, they are supervised by the coaches concerned. However, when junior members and their guests use the club's facilities at any other time that is permitted by the club, parents and guardians must understand that there are no staff on the premises to safeguard, supervise or assist children, and at times there may not be any adults present at all. Parents must therefore accept complete responsibility for their juniors and guests when using the facilities of the club and the neighbouring North Bank estate, and either arrange for their play to be supervised or knowingly allow them to play unsupervised. 19 Nov
Safeguarding & Diversity: The LTA have asked us to make all members aware of their responsibilities when it comes to safeguarding children and vulnerable adults. There will shortly be a new noticeboard in the clubhouse with guidance and details of our Welfare Officers who will deal with any issues. In the meantime, you can find advice on what to do if you have a concern in the 'Emergencies' section of the Membership area of the website, and full details of the safeguarding, diversity and other polices in the 'Club policies' section. 20 Aug
Facebook page: The club now has its own Facebook page. You can access it from the foot of the homepage of this website (click on the F logo). We have already uploaded some cool videos and we look forward to our members contributing to the site. 25 Apr
British Tennis Membership: We ask all adult members and juniors 11 and over to sign up for free British Tennis Membership Lite. If you aren't already a member, please sign up and quote Muswell Hill Methodist as your tennis venue: https://www.lta.org.uk/member/benefits/. 31 Aug