Club
Cramlington Demonstrate Team Work At Its Best
Wed, 20 Nov 2019 00:00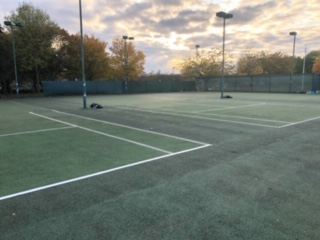 The four courts at Cramlington Community Tennis were looking tired and faded but as it was late in the year, the decision not to re-paint was made (didn't want to pay @ £8000 for them not to be used to their maximum potential).
So, Phil Barron (Head Coach) and Jane Grey (Chairperson) had the bright idea to repaint the lines so at least matches could still be played over the winter months. After purchasing numerous paint brushes, dozens of rolls of masking tape, paint buckets and taking delivery of 15 litres of line marking paint, the race was on to get as many volunteers as possible to donate a couple of hours of their time all on one day.
With military precision groups were organised and set to task masking out the line edges, decanting paint into buckets and dishing out brushes like there was no tomorrow! A fantastic team effort ensued with parents supervising youngsters brushing up and collecting the leaves, the teens huddled together painting as they listened to their play lists on their phones and the adult contingency chatting amongst themselves whilst painting. Unfortunately, the wind picked up and played havoc with the masking tape and it quickly became a hinderance rather than a help, so Jane made the decision to rip it all up and go freehand! At this point a hush descended across the courts as everyone was concentrating to the max and trying to stay within the lines!
After an amazing 4 hours and with the help of over 25 volunteers the lines on all four courts were complete!
Just goes to show what a little determination and belief can achieve, and the success of the afternoon just reinforced why we have the word COMMUNITY in our title – our volunteers reinforced this tenfold!
The next project for Cramlington Community Tennis? Begin to raise the £8000 required for a total repaint of the full court area late Spring 2020 and Jane's already on the case!
Should you want to have a go on our gorgeous looking courts, please visit www.cramtennis.co.uk where all the programme details are in full, together with contact details for Phil Barron, Head Coach.
Before
During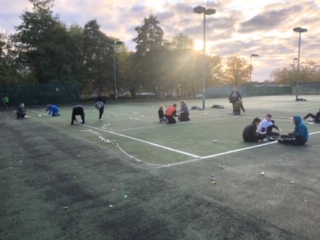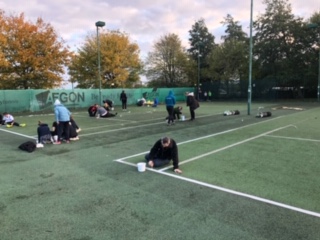 After