Club
Getting Back On Court
Tue, 12 May 2020 00:00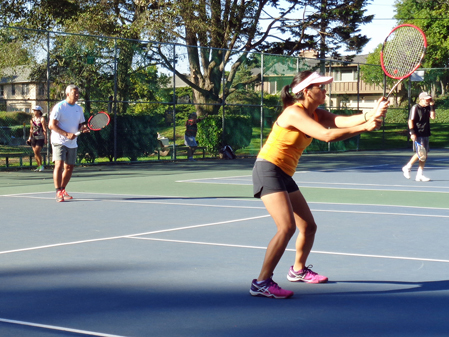 From the Club Chair and Committee - please read carefully:
I am pleased to announce that we can re-open the tennis club this Wednesday, May 13th in line with the most recent government announcements.

We have studied the LTA guidance and the OTC Committee has met to work through how we reopen and ensure safety for all; this is our unequivocal priority but we need everyone to play their part and adhere to these mandatory conditions:

- Singles tennis can be played against someone not from your household; and doubles with members from your own household (or singles of course).

- Social distancing rules apply.

- Please clean your hands with an alcohol-based hand rub / wash before you enter the courts. Please bring your own and take all rubbish away with you. We will have some wipes available for back-up.

- Please wipe down the handle/lock on the court you use and other things you touch e.g. net handle

- Main gate entry - if you are opening or closing the gate (if you are the last playing tennis at the Club) then please wipe down the handle and lock as per the above instructions.

- ClubSpark must be used to book a court in all cases (click here). Sessions will be 55 minutes with 5 mins to clear the court. Go to: . It is really easy to use and essential for us to avoid large gatherings and queuing at the Club.

- Only courts 1, 2, 3 and 4 can be used (not court 5 for social distancing reasons).
- Membership for 2020/21 season - If you haven't done so already, please renew/join (click here) before using the courts. Once paid the new shoe tags will be sent through to you and we will send the new gate code. Please be sensitive to other members when making multiple bookings, and no more than 1 hour per day per household.

- Coaching will also commence on Wednesday by James Muir and his team. Those wanting coaching must be at least signed up as a coaching member. Only 1:1 coaching is allowed at this time. James will be sending around details but can be reached on: [email protected] Tel 07985 286 176. He will be following strict LTA Coronavirus safety guidance.

- Please use your own tennis balls and racquets.

- You can bring a non-member guest but there is a £5 (adult) and £2 (junior) charge. This can be paid by bank transfer to Natwest Bank account number 06610102, sort code 54-21-22. Please use your name as reference. The full guests policy is on the website. If they visit several times, please encourage them to become a member.

- Do not come to the Club if you have any Covid-19 symptoms.

- The Clubhouse will stay closed (note. This means that the toilets are unavailable).

- No use of the Ball Machine at this time.

If individuals do not behave responsibly, in line with the above precautions, then we will have no alternative but to close the club once again. We will keep reviewing the advice and communicate with the membership as soon as we can safely take any measures to relax the conditions outlined above.

Please get in touch if you have any questions: [email protected]