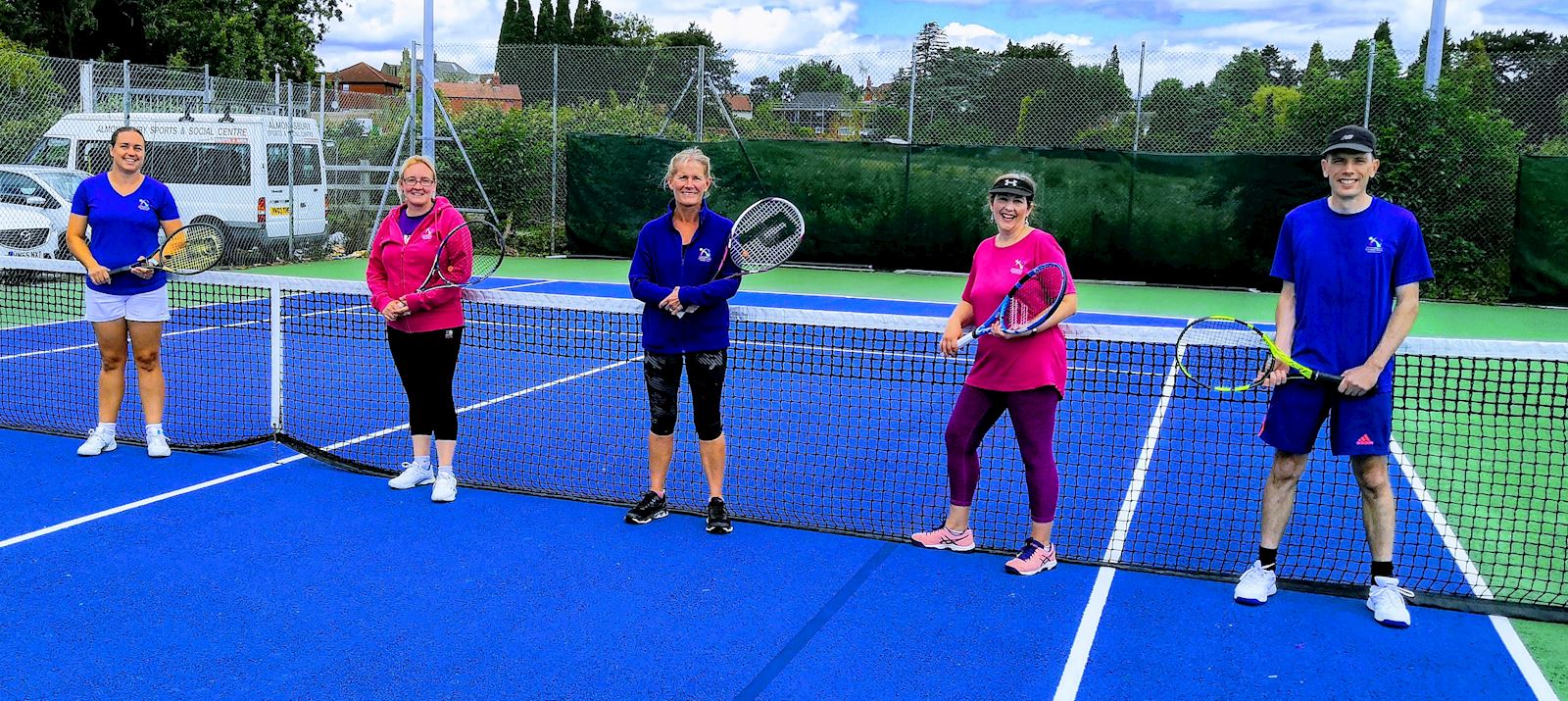 CLUB KIT AVAILABLE FROM INITIALLY YOURS
To get an idea of style and sizes, in the photo from left to right:
Ladies V-neck in size 14, Ladies Style Zip hoodie size 14, Microfleece in size Small, Ladies round neck T Shirt in size 16, Unisex t shirt in Medium. Please note that the ladies sizes are a bit on the small side, so if in doubt, go a size up!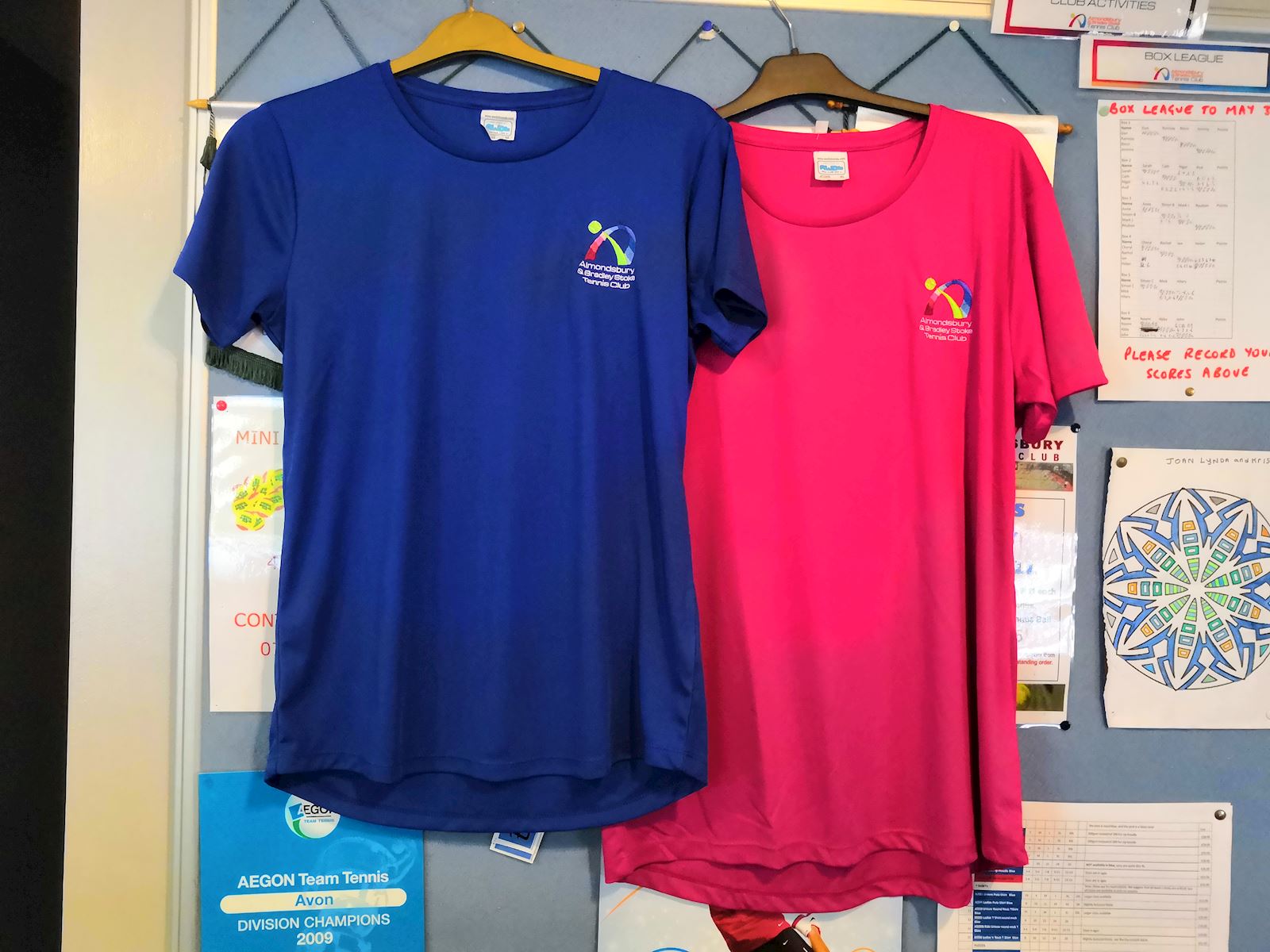 The photos don't do our kit justice - it looks great! The blue is a lovely deep bright blue, and the pink hoodies are a really bright shade of cerise. We order once a year and are now collecting orders!

Occasionally the club collects orders together and puts in a bulk order, but it is unlikely we'll do this in the near future, so if you want an item soon, go to initially yours direct. Otherwise, just let Naomi know you are interested in placing an order next time we do a joint one.
We do have a limited number of men's tshirts and adult and kids cap in stock - so email [email protected] if interested in this.
To find out more about the items, go to the initially yours catalogue and type in the code number (near the bottom of the page) where it says 'enter code'.
HOODIES

Royal Blue or Deep Coral Pink

Price

JH020 Heavyweight Hoodie Blue

S

M

L

XL

XXL

330gsm instead of 280 for zip hoodie

£28.00

JH020 Heavyweight Hoodie Pink

S

M

L

XL

XXL

330gsm instead of 280 for zip hoodie

£28.00

JH050 Unisex Zip Hoodie Blue

S

M

L

XL

XXL

£27.00

JH050 Unisex Zip Hoodie Pink

S

M

L

XL

XXL

£27.00

JH055 Ladies Zip Hoodie Pink

8

10

12

14

16

NOT available in blue, sizes are quite slim fit.

£27.00

JH050B Kids Zip Hoodie Blue

3-4

5-6

7-8

9-11

12-13

Sizes are in ages

£20.00

JH050B Kids Zip Hoodie Pink

3-4

5-6

7-8

9-11

12-13

Sizes are in ages

£20.00

T-SHIRTS

We suggest that all team t shirts are in BLUE, but all styles are available in pink too.

JC021 Unisex Polo Shirt Blue

XS

S

M

L

XL

XXL

Larger sizes available

£15.00

JC045 Ladies Polo Shirt Blue

8

10

12

14

16

18

Slightly textured fabric

£15.00

JC020 Unisex Round Neck T Shirt Blue

XS

S

M

L

XL

XXL

Larger sizes available

£10.00

JC025 Ladies Round Neck T Shirt Blue

8

10

12

14

16

£10.00

JC020B Kids Unisex Round Neck T Shirt

3-4

5-6

7-8

9-11

12-13

Sizes in ages

£8.00

JC006 Ladies V Neck T Shirt Blue

8

10

12

14

16

Slightly textured fabric

£11.00

FLEECES

RS114m Unisex Micro Fleece

XS

S

M

L

XL

XXL

NOT available in pink, weight 200 gsm

£21.00

RS36 Unisex Micro Fleece

XS

S

M

L

XL

XXL

NOT available in pink, weight 330 gsm

£26.00

CAPS

JC090 Visored Sports Cap

NOT available in pink, sports performance quality

£9.00

RC080 Visored Sports Cap

NOT available in pink, standard quality

£6.00