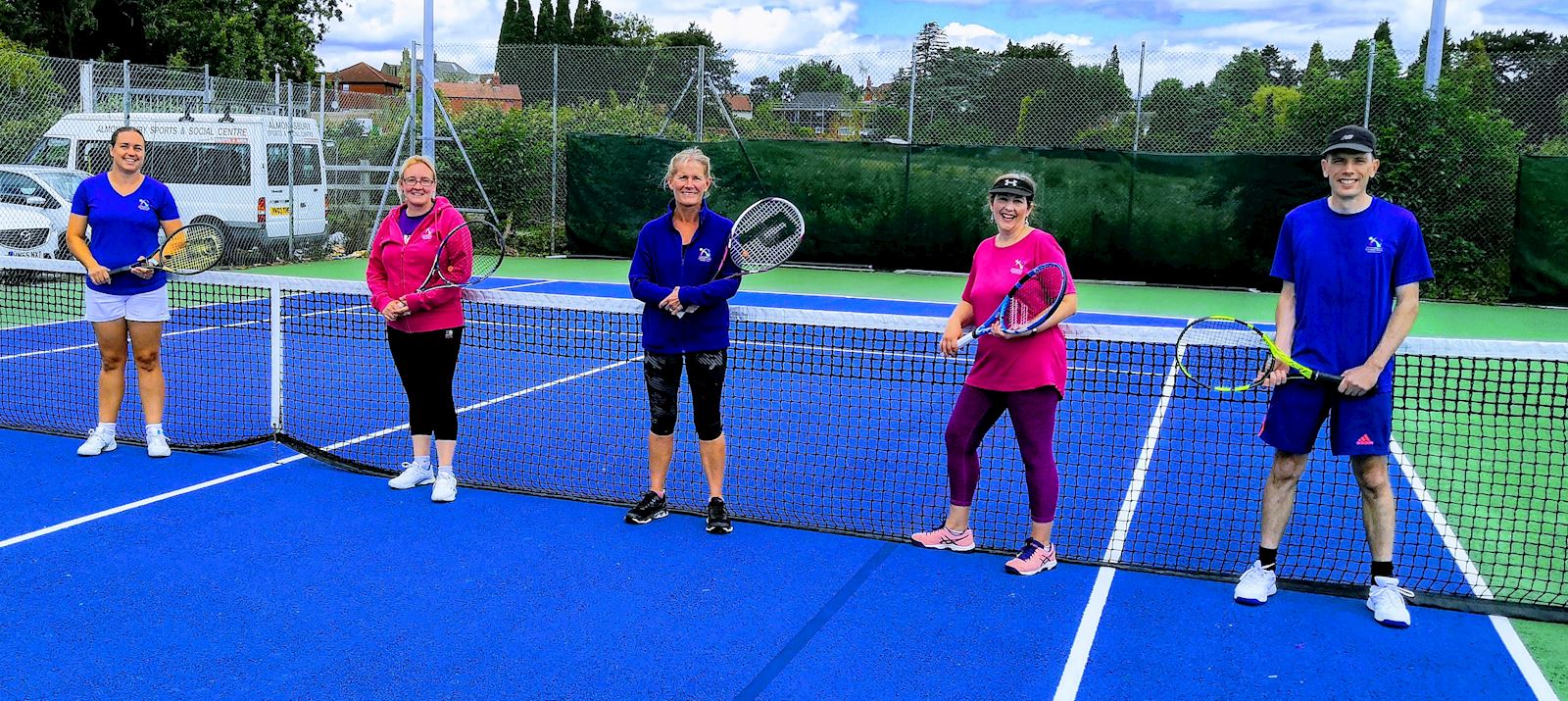 PROUDLY REPRESENT OUR CLUB IN OUR BRANDED KIT
Order your sports kit with our club logo embroidered on.
To get an idea of style and sizes, in the photo from left to right:
Ladies V-neck in size 14, Ladies Style Zip hoodie size 14, Microfleece in size Small, Ladies round neck T Shirt in size 16, Unisex t shirt in Medium. Please note that the ladies sizes are a bit on the small side, so if in doubt, go a size up!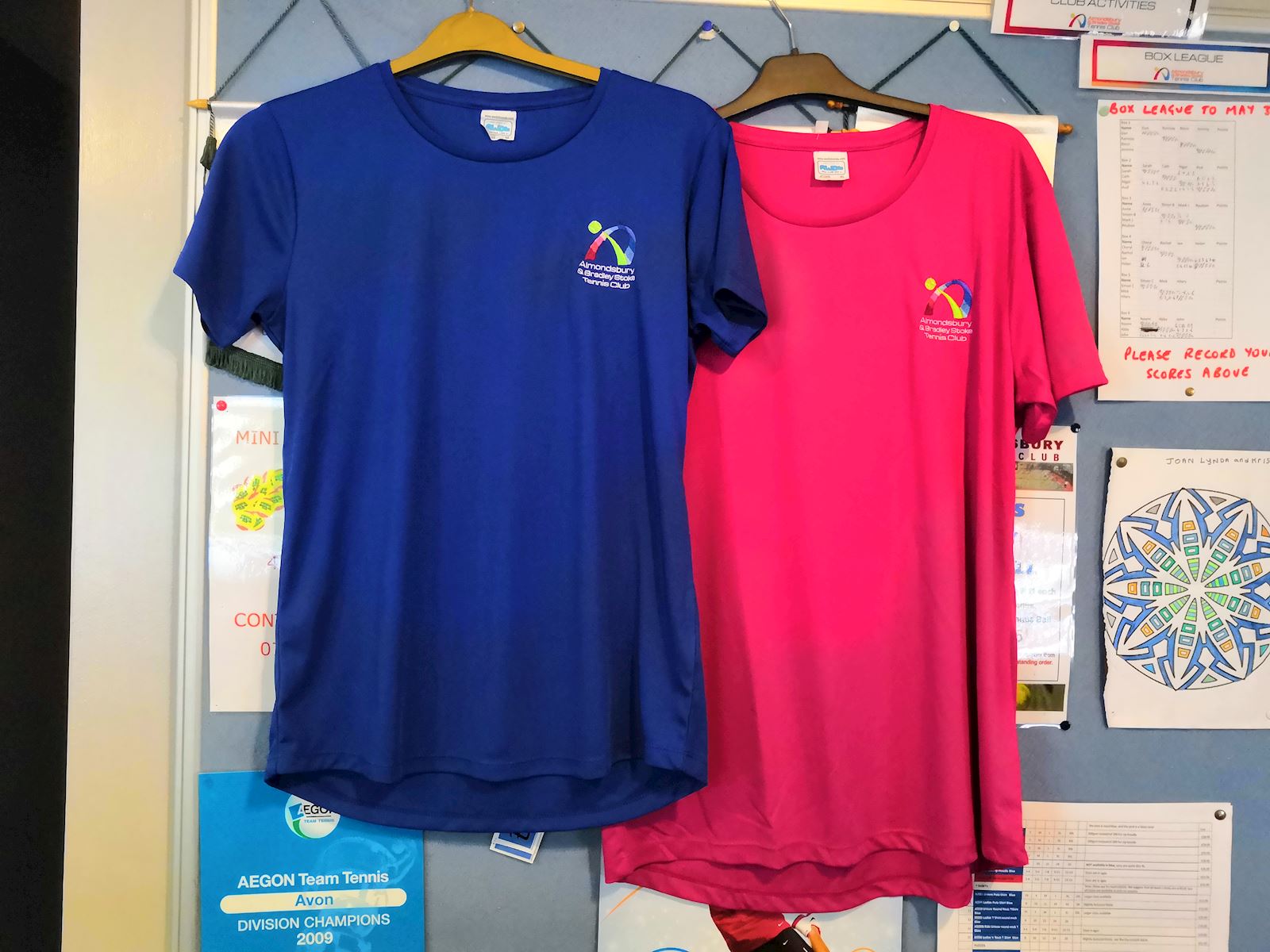 The photos don't do our kit justice - it looks great! The blue is a lovely deep bright blue, and the pink hoodies are a really bright shade of cerise. We tend to do an order annually (last one was May 2021), but if we have an order for seven or more items we can do additional orders.

You may be able to order individually other times of year but will have to pay delivery charges etc, and it will cost more than the costs advertised below.
Email [email protected] for any queries to do with club kit.
To find out more about the items, go to gocustomclothing.com and type in the code number.
Note: To add a name on to the back of any item, add £4 extra
HOODIES

Royal Blue or Deep Coral Pink

Price

JH020 Heavyweight Hoodie Blue

S

M

L

XL

XXL

330gsm instead of 280 for zip hoodie

£28.00

JH020 Heavyweight Hoodie Pink

S

M

L

XL

XXL

330gsm instead of 280 for zip hoodie

£28.00

JH050 Unisex Zip Hoodie Blue

S

M

L

XL

XXL

£26.00

JH050 Unisex Zip Hoodie Pink

S

M

L

XL

XXL

£26.00

JH055 Ladies Zip Hoodie Pink

8

10

12

14

16

NOT available in blue, sizes are quite slim fit.

£26.00

JH06J Kids Hoodie Blue

5-6

7-8

9-11

12-13

34

Sizes are in ages (except 34)

£16

JH06J Kids Hoodie Pink

5-6

7-8

9-11

12-13

34

Sizes are in ages (except 34)

£16

T-SHIRTS

We suggest that all team t shirts are in BLUE, but all styles are available in pink too.

JC021 Unisex Polo Shirt Blue

XS

S

M

L

XL

XXL

Larger sizes available

£16.00

JC045 Ladies Polo Shirt Blue

8

10

12

14

16

18

Slightly textured fabric

£16.00

JC020 Unisex Round Neck T Shirt Blue

XS

S

M

L

XL

XXL

Larger sizes available

£11.00

JC025 Ladies Round Neck T Shirt Blue

8

10

12

14

16

£11.00

JC20J Kids Unisex Round Neck T Shirt

3-4

5-6

7-8

9-11

12-13

Sizes in ages

£9.00

JC006 Ladies V Neck T Shirt Blue

8

10

12

14

16

Slightly textured fabric

£11.00

FLEECES

R114X Unisex Micro Fleece

XS

S

M

L

XL

XXL

NOT available in pink, weight 200 gsm

£21.00

CAPS

BC020 Visored Sports Cap

NOT available in pink, sports performance quality

£12.00

BC10B Junior Visored Sports Cap

NOT available in pink, standard quality

£7.00