Competition
The Peterborough Tennis Festival at COPTC / 16th - 20th Aug 2021
Mon, 26 Jul 2021 00:00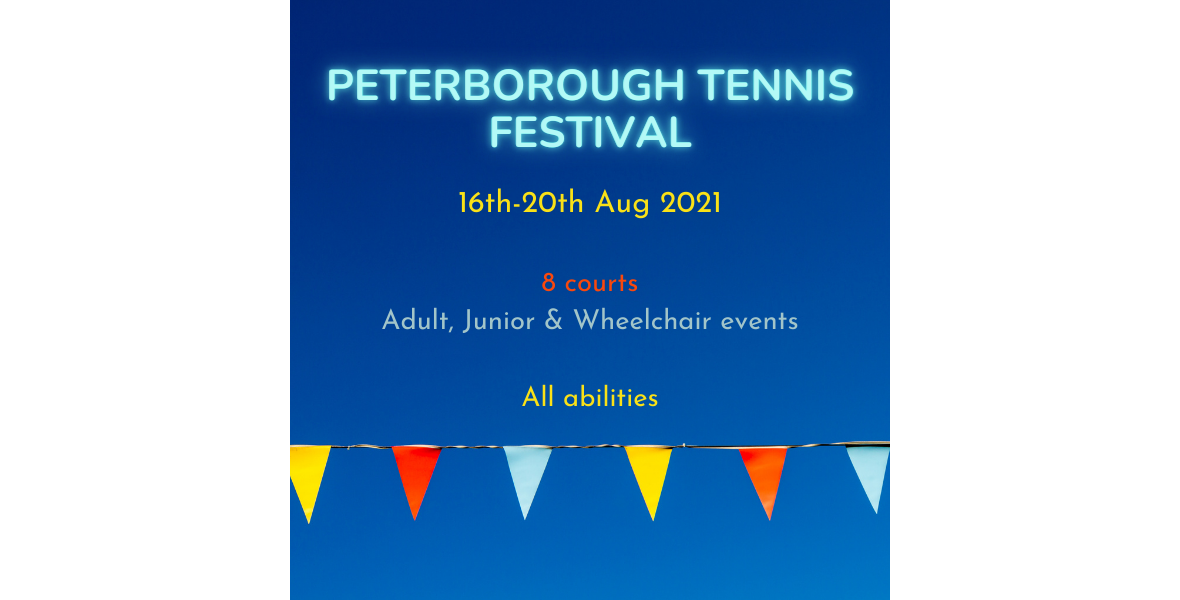 We are pleased to announce the tournament has been approved by the LTA and we are now open for Entries for all junior, adult and wheelchair events! You will find all links further down!
This is the first time we have attempted to do anything like this at the club and we are really excited for how its going to go. Gary Rice, the groundsman, has already started rolling and cutting the two additional courts and we have had great feedback from the current grass court including George Green our Mens 'B' captain quoted saying "it's the best" haha.
Entries will be taken through the LTA website but don't worry, this just means the results are stored and it makes it easier for external people to enter! You will need an LTA membership to compete but this is free if you link it to our tennis club. This also gives you more chances of getting Wimbledon tickets. Payments will be taken via stripe on the LTA System they have currently been having some trouble with stripe which has caused a delay in me sending this email! Sometimes it takes payment sometimes it doesn't! Please do sign up and then I can request payment if It does not work. We have received 9 entries so far but it is hidden until they have paid.
SIGN UP HERE!
https://competitions.lta.org.uk/tournament/05b42c3e-0db9-4867-9be1-119a775e11b7
This is the provisional format of the week! (Subject to change depending on entries).
ADULTS
We will be running the following adult events:
Mens Singles - Monday
Ladies Singles - Monday
Ladies Doubles - Wednesday
Mens Doubles - Tuesday
Mixed Doubles - Thursday
Wheelchair Tennis - Friday
FINALS FRIDAY
The format of the adult events will be a followed:
Round of 16 - 2pm start
Quarter finals - 4pm start
Semi finals - 6pm start
Finals - FRIDAY
Each event will take place on a different day with the finals all taking place on the Friday, which will be our PARTY Night where we will celebrate a great week of tennis! Each event will only have a round of 16 which means that all 8 courts will be in action for the first round and then each round we use less and less courts. This will be an elimination tournament.
This is the first major adult tournament we are running at the club and it would be great to fill it up with club members so please do sign up when we open the event up. As with everything we do we want it to be super sociable so we will be having food/drink on and different events each night to try and get everyone socialising and of course raise money for the club. Open to all abilities.
JUNIORS
We will be running the following Junior Events
8 & u Reds - Wednesday Morning 10-12
9&u Orange - Wednesday Afternoon 12:30-2:30
10&u Green - Tuesday Morning 10-1
12&u Yellows - Monday Morning 10-1
16&u Yellows - Thursday Morning 10-1
18&u Yellows -Friday Morning 10-1
These will be run as round robin or compass draws depending on the amount of entries. This is open to all abilities and will be great for players whether it is their first tournament or whether they compete regularly! Spaces will be limited so please do sign up as soon as possible to avoid disappointment!
SIGN UP HERE!
https://competitions.lta.org.uk/tournament/05b42c3e-0db9-4867-9be1-119a775e11b7
This is the first time we have hosted a tournament like this at our club and we really hope that we can make it a good event. Thank you to everyone who has come forward offering their help for part of the week or full week, we greatly appreciate it! We want the tournament to be filled up with our members so you have a priority booking window and then on WEDNESDAY I will be sending it out to external clubs and contacts! We have already received 9 entries before I have even advertised it!
Any questions please do not hesitate to ask! ( We do not receive replies to these emails so please email myself on [email protected])
Many Thanks
Max Lambert
Head Coach @ City of Peterborough Tennis Club