Squash

At Newlands we are passionate about Squash and have one of the biggest squash sections in the region. We offer some of the best facilities in Glasgow with 5 glass backed courts with a newly ugraded seating area for spectators.
With our FREE Squash Club Night, FREE Racketball Club Night, FREE Ladies Night, FREE New Members Night, team training, thriving box leagues, a squash ladder and junior and adult coaching available for all levels, Newlands is a great place to enjoy and improve your squash.
We have 6 competitive teams competing across the West Squash leagues as well as being regular winners of both the mens and ladies Scottish National Leagues and competing in the European Club Championships.
New players are always welcome!
How do I get involved?
Matt Bedwell delivers the squash coaching programme at Newlands which provides coaching to our members of all ages and standards to help improve their game.
FREE Adult Coaching
New Members/Beginners Night - Monday 6 - 7pm
Racketball Club Night - Tuesday 7 - 9pm
Squash Club Night - Thursday 7pm – 9pm
Ladies Squash Night - Thursdays 6pm – 7pm
FREE Junior Coaching
Free Junior Squash session for members (it is Club policy that Juniors under 19 must wear approved eye protection):
Juniors under age 10 - Saturday 1pm - 2pm
Juniors over age 10 - Saturday 2pm - 3pm
(£5 for non-members for a trial period only)
Private Coaching
Matt Bedwell – Level 2 Scottish Squash Qualified Coach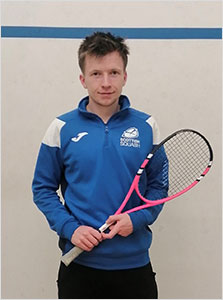 Matt is an enthusiastic Level 2 coach who has coached all standards of players from beginner to advanced / elite level for both juniors and adults. Matt runs the coaching programmes at Newlands having previously coached at Strathclyde University and at Hamilton.
Matt will represent the Club's first team in the leagues and has represented Newlands twice in the European Club Championships.
Mobile: 07769342958
Email: mattbedwell20@gmail.com
Cost: £18/45mins.
Coaching is available on a one-on-one basis.
Play competitively
To join our box leagues, squash ladder or to join the team please contact Matt.