More Tennis Sessions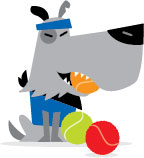 More info on Mini Tennis
Learn more about Mini Tennis at the LTA Mini Tennis site: here
Lawn Tennis Association
Visit the LTA site to sign up for the Wimbeldon Ballot, become member and much more!
Competition at the Academy!
Portsmouth Tennis Academy's Super Series is an in house competition for our Red, Orange, Green and younger junior players. Learning the rules in tennis can prove difficult for youngsters, that's why we set up this monthly in house tournament. It's fun, relaxed and we name each month after one of the ATP or WTA International tour events… All players receive a certificate and 1st, 2nd and 3rd placed players receive a medal! We also use a leader board which is updated after each event and is displayed on our Competitions Board. The Super Series is an ongoing competition with monthly events taking place throughout the year.
Local Tennis Leagues
A great way to make friends and find local competition... For more information visit Local Tennis Leagues site: https://www.localtennisleagues.com/
Corporate & Social Events
For more information on corporate and social events please email enquiries@ptatennis.co.uk