More Tennis Sessions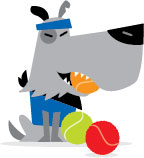 More info on Mini Tennis
Learn more about Mini Tennis at the LTA Mini Tennis site: here
Lawn Tennis Association
Visit the LTA site to sign up for the Wimbeldon Ballot, become member and much more!
Competition at the Academy!
Portsmouth Tennis Academy hosts monthly in-house tournaments called Super Series. These allow our younger players a comfortable introduction into competition. Click here for more information.
We also have teams which compete in both winter and summer leagues - if you're interested in getting involved, have a chat with our coaches to find out more about our opportunities.
Local Tennis Leagues
A great way to make friends and find local competition... For more information visit Local Tennis Leagues site: https://www.localtennisleagues.com/
Corporate & Social Events
For more information on corporate and social events please email [email protected]k