Club
Phase - 3 Re-opening
Fri, 17 Jul 2020 00:00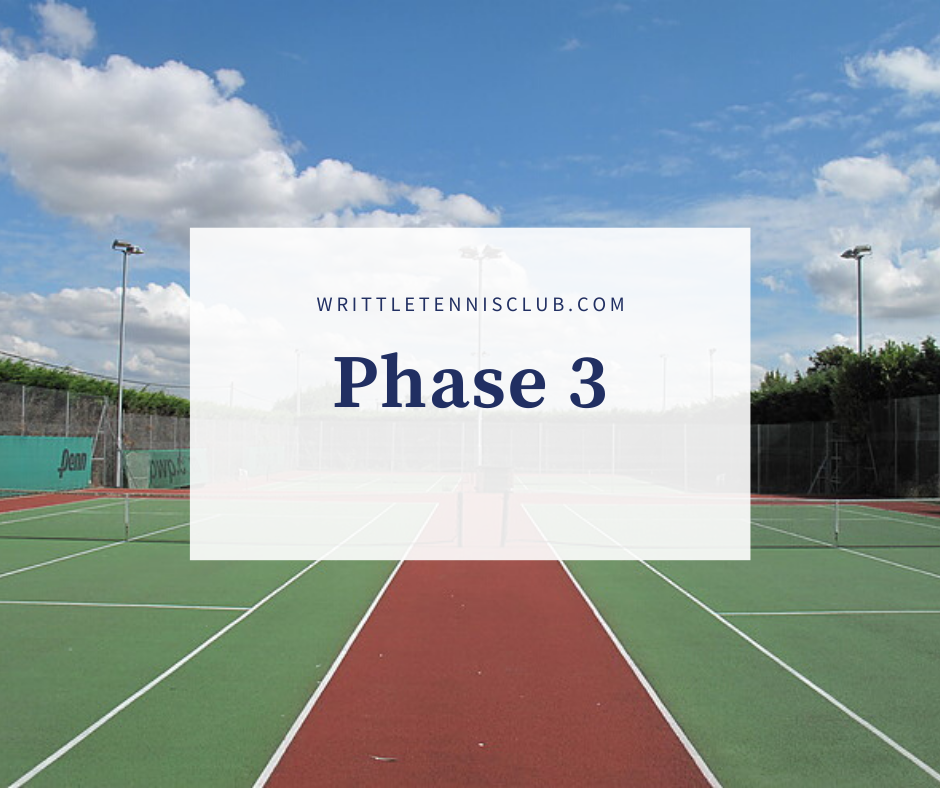 These are the new procedures taking place at Writtle Tennis Club from Saturday 18th July since the LTA lifted further restrictions.
All procedures are applicable to our new temporary location, Writtle College.

Buildings & Facilities
There are no toilets at Writtle College
Writtle Sports and Social Club intends to re-open at the beginning of August. We would appreciate our members supporting the social club. We will let you know once opening times are confirmed.
Coaching

Social Tennis
Committee are going to be hosting the first club night. More info to come soon! Please be aware this takes considerable organisation having to complete further risk assessments and individual event delivery plans in the current climate.
Matches
Winter adult doubles league is on. A separate email was sent out.
What to do
Online court booking system must be used:
3 courts are bookable. No.2 court (top, furthest away from the hut) and no.3 court (bottom, nearest to the hut) and no.4 court (bottom, furthest from the hut)
There are now no buffer periods between bookings
How to book courts: https://drive.google.com/file/d/1_dR1Rst70Z2m_uxAZ8JA4QRwmPeG8Any/view?usp=sharing
Singles and doubles can be played with people from different households can take place as long social distancing guidelines are adhered to and venues follow COVID-19 Secure guidelines
1 booking per member per day
Players do not need to use their own clearly marked tennis balls – however, if you choose to use shared balls then extra care must be taken to ensure you do not touch your face during play, and you should clean your hands before play and immediately after finishing
You must bring your own drink or bottle
The height of the nets will already be set
There will be handwash and sanitiser available. It is recommended you bring your personal hand sanitiser
On exit, please use the antibacterial spray/ wipes to clean any surfaces. Also wipe down the gate handle and padlock
Please see the separate email sent if you need procedures for Writtle College

Other notes
Where attendance of a parent/guardian (non-participant) is required, or a carer for a disabled player, it is permitted, but should be off court and limited to one per player where possible  [NEW] Supporters, parents, and other spectators should remain socially distanced whilst attending events.
Spectator groups must be restricted to discrete six person gathering limits and spread out, in line with wider government guidance.
This is what we are doing to ensure we are following the guidelines, so members are safe, and the club can be accessible. We cannot stress enough that all members should be following the governments guidelines. If rules are not complied, it will be considered a serious breach of conduct.
We request that all our members play their part in minimising the risks, which for certain categories, might mean, regrettably, not playing tennis at all.
Please look after yourselves and others around you. The club's operations will be reviewed on an on-going basis, following the guidelines, and will be in contact with you all with any further updates or developments
Very Important
To prevent the spread of the virus, we ask all members to observe the following practices:
Anyone attending a venue (including players, coaches, staff and any other visitors), should undergo a pre-attendance self-assessment for any COVID19 symptoms using the information on the NHS website before leaving home.
No-one should leave home to participate in tennis if they, or someone they live with, has symptoms of COVID -19, currently recognised as any of the following: - A high temperature - A new, continuous cough - A loss of, or change to, their sense of smell or taste
Should an individual have demonstrated any such symptoms, they must follow NHS and PHE guidance on self-isolation.

For further information please go to:
https://www.lta.org.uk/about-us/tennis-news/news-and-opinion/general-news/2020/march/coronavirus-covid-19---latest-advice/