Welcome to
Almondsbury Tennis Club
Family friendly club conveniently located next to M5 Junction 16
We welcome members of all ages and abilities, so whether you are an absolute beginner, returning to the game after a break, a regular player, or looking for disabled tennis you'll find a welcome at the club.
OPEN DAY
Come and join us for a great day of free tennis - coaching for all ages in the morning with our LTA qualified team of coaches then free play in the afternoon. Refreshments are available all day and you can enjoy a great BBQ lunch as well. Membership and coaching offers available on the day. Book now at http://bit.ly/ATCOpenDayApril2018 to guarantee your place or just drop in for a chat and to see what's available on the day.
NEW! Learn to play with Tennis Xpress
If you have never played tennis before, or haven't played in a long time, then Tennis Xpress is for you. It is an easy and fun way for adult beginners to get into the game. Find out more and book straight onto one of our courses here.
What's available at the club?
We have four all weather tarmac courts with floodlights so we play all year round. There's a comfortable clubroom with catering facilities and members also have access to the Almondsbury Social Club bar, which has Sky Sports TV. Check our facebook page for all the latest news!
Those wanting competitive play will find opportunities in the Men's, Ladies and Junior Leagues and LTA Tournaments that are played at the club. Many members play the game purely as a social activity and will welcome others to join them both at club sessions and in games organised amongst themselves.The club runs occasional social events, some tennis based, some not, that all members are welcome to take part in.
There is an extensive coaching programme run by our Head Coach and his fully qualified coaching team, who are happy to teach anyone from 3yrs (there's no upper age limit!).
We provide flexible membership packages to match your needs.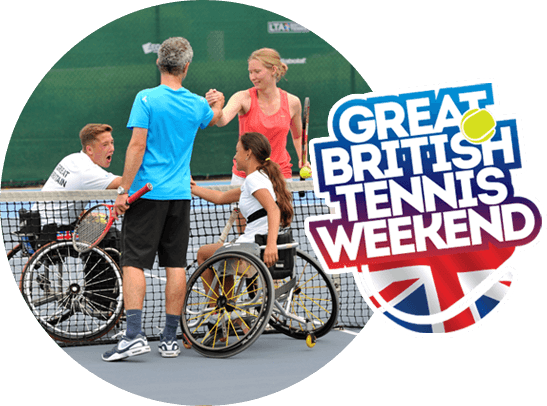 We're hosting a Great British Tennis Weekend event!
Try tennis for free this summer at a Great British Tennis Weekend event! Rackets and balls will be provided, so whether you've never picked up a racket before or you're a seasoned regular – there is fun to be had.
Come and Join Us
There are lots of reasons to be a member of our club. You can book courts, get discounts on coaching, enter the ballot for Wimbledon tickets, take part in the teams, join in the social events........
How to find us
Gloucester Road Almondsbury Bristol Avon BS32 4AA
Our Partner