Autumn Update
Sun, 31 Oct 2021 00:00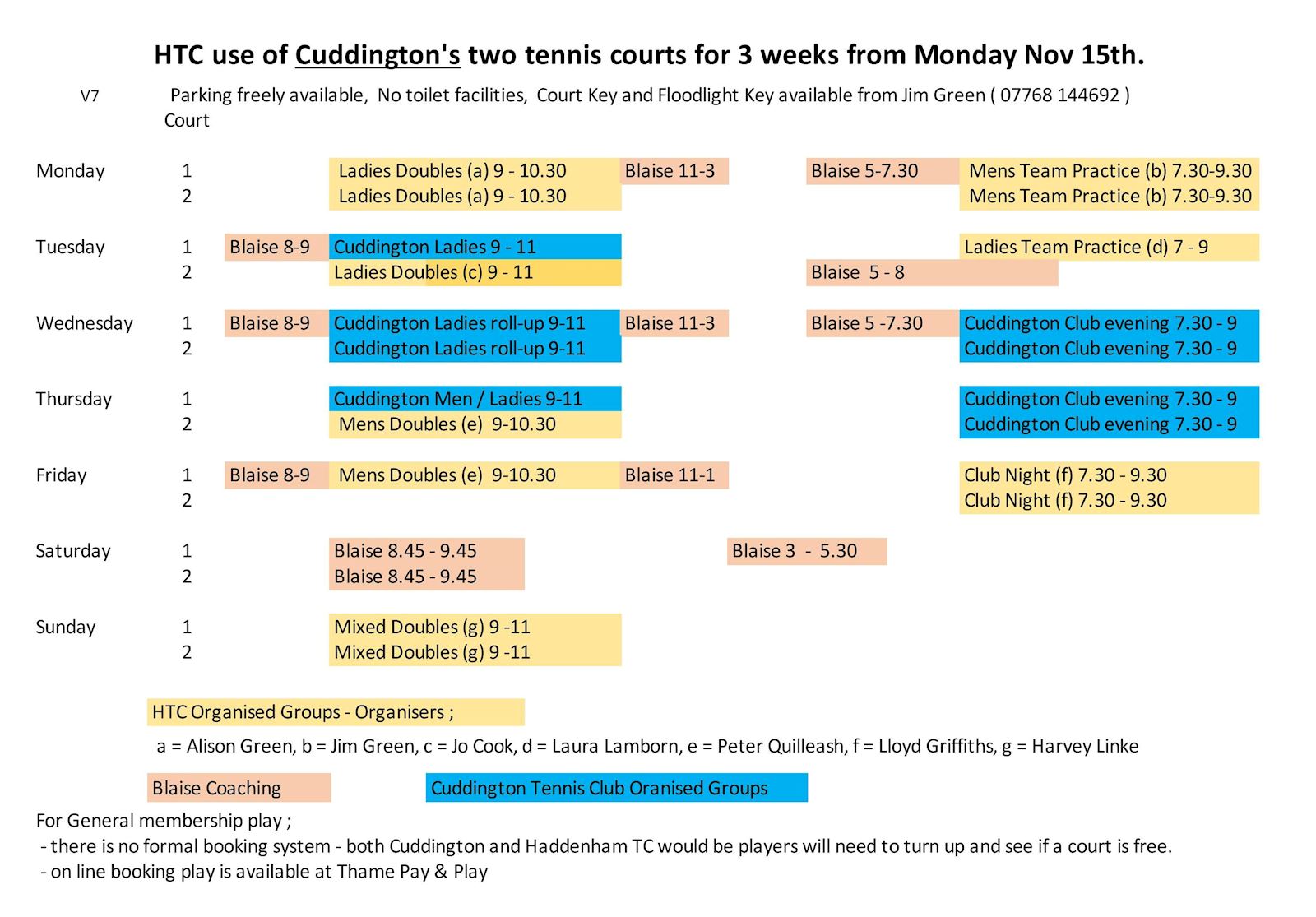 Dear Members,
A lot has happened since our last update, so here is some news for you all.
The big event that I hope most of you will be aware of is that at last, we are getting our courts re-laid.
This work is due to start on Monday 15th November and our courts should be ready to use on Monday 6th December.
All three main courts will be out of use for this three week period, but the two Mini Courts shall still be able to be used by Members.
The work being carried out is to lay a new tarmac surface which will be a huge improvement of the current courts that have started breaking up.
As the new surface needs 'curing', they will not be painted until early Spring 2022 and until that time, they will be unpainted black tarmac with temporary tennis lines and assuming no delays for inclement weather, should be ready for use by Members on Monday 6th December – so fingers crossed!
While our courts are out of action, we have agreed a back up arrangement with Cuddington Tennis club who have two hard courts and they are allowing our members to use their courts for certain periods when not in use by them. Jim Green has done a superb job for us here and most of our 'organised' sessions have been accommodated. Please see attached schedule for details. A court booking system is not available, but should Members wish to play outside the designated times on the schedule, there are several opportunities for play, which includes: Turning up on spec to Cuddington (but giving way if in use by Cuddington members), booking courts at Thame or Halton that have pay & play booking facilities (please keep records of this if used), or, where members are also members of other clubs.
Jim Green shall be liaising on keys for court access and floodlight use at Cuddington. Note that court access is also possible without a key – please ask Jim for details.
You can contact Jim by emails to at [email protected] with the subject header of: Cuddington Courts FAO Jim Green, these will get to him or, on his mobile 07768 144694.
Members will be aware that the Covid Pandemic is still with us and we must remain vigilant and continue to follow all sensible precautions so that we can all stay safe.
We are planning to have our AGM on Tuesday AGM 23rd November at 7.30 pm which is currently planned to be in the playing field pavilion or via Zoom, depending on the prevailing situation.
We wish you all the best of luck and hope that you have enjoyed your tennis this summer.
Bev Wilson
HTC Chair