Competition
Northumberland Ladies Over 70's Team Crowned National Champions
Fri, 29 Nov 2019 00:00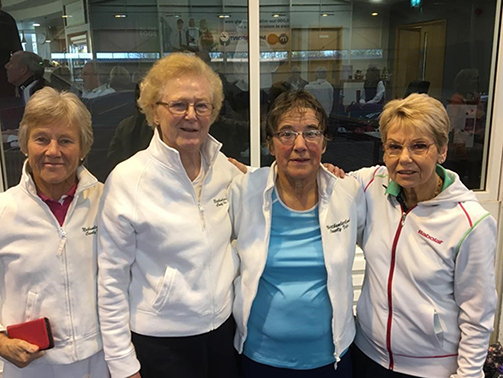 The Northumberland Ladies over 70's team defeated Middlesex in a closely contested final of the Seniors' Inter County Competition at Dudley in the West Midlands
The line-up of Captain Angela Appleby, Pauline Storey, Megs Rogers and Mary Corbett proved that if at first you don't succeed – try and try again.
Back in 2010, the quartet were defeated in the over 60's category of the same competition but this time around, it was smiles all round.
During the summer, the foursome won division 1B of the over 70's league which earned them a meeting with Middlesex, the champions of Division 1A.
In the final, both Northumberland pairs won their first rubbers, before Middlesex reduced the arrears to 2-1.
It was down to Megs and Mary to play out the final rubber, which then came down to a match tiebreak set. After valiantly saving match point at 9-8 down, Megs and Mary prevailed, going on to win 11-9.
With the Northumberland Team having only the four players in the squad, this is an even more remarkable achievement with the players avoiding injury to play in all the matches along the way.
Many congratulations to Angela Appleby, Pauline Storey, Megs Rogers and Mary Corbett
The 2019 Over 70's National Champions