Welcome Letter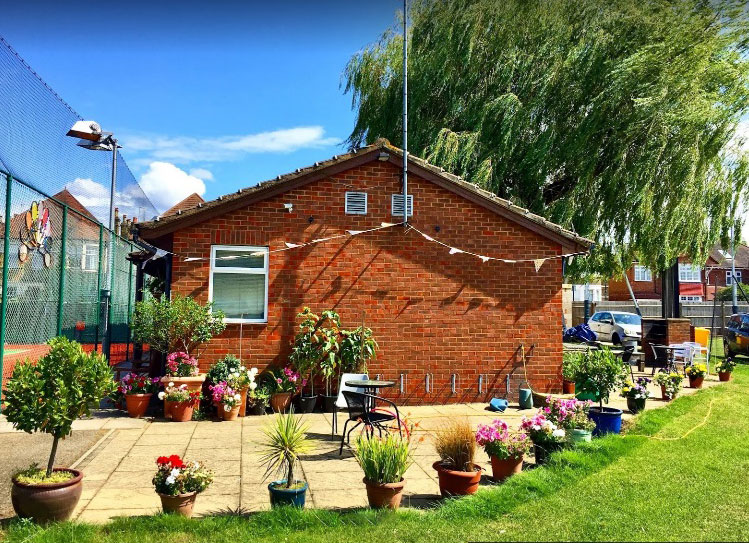 Welcome to South Hampstead Tennis Club (SHTC) and thank you for joining our friendly local club
We offer five outdoor carpet and sand all-weather courts with floodlighting (up to 10pm), a pavilion with kitchen, outdoor seating, a bbq, showers & bar, coaching and club play – everything you need in a local tennis club. The courts are available from 8am to 10 pm every day.
Membership: Below are the benefits for full members and coaching members. If you have any enquiries, contact our membership secretary, Anne Williams, on 07989 331502.
FULL MEMBERSHIP Benefits
Access to all facilities and full use of floodlit courts seven days a week - 8.00am to 10.00pm
A key to the front gate to allow access to the courts
Access to all club sessions, Wednesday evening 6.30pm onwards and Saturday and Sunday afternoons from 3.00pm
Invitations to all social events
Allows you to invite guests up to three times per year per guest upon payment of a £5 fee
Entry into the Wimbledon draw if you are a British Tennis Member registered at our venue.
Team tennis
Full voting rights at all club meetings
COACHING MEMBERSHIP Benefits
Access to our coaching programme of both individual and group tuition without the need to pay a visitors premium on every visit.
Invitations to some of our social events
Ability to play three times socially as a guest of a full member if a £5 fee is paid
Safeguarding at SHTC
The LTA have asked every Tennis Club to nominate a Welfare Officer who will oversee the protection of children and safeguard their interests. The Welfare Officer at SHTC is Desi Lodge Patch.
There is a poster in and outside the clubhouse with her contact details. If you have any concerns they must be reported to her immediately. We also have a Code of Conduct that every member is asked to sign up to: this is to ensure a safe and inclusive environment both on and off the courts. We also ask every member to read our Safeguarding and inclusion and Diversity policies that are posted on our website. There are also hard copies of these policies in the clubhouse.
Thank you for your cooperation and support for these policies.
GENERAL RULES
As a full member, you will receive a key to the front gate. No keys are needed to access the courts.
Appropriate sporting attire must be worn at all times - no vests or bare chests please. To protect the court surface, tennis specific shoes must always be worn on court.
PLAYING RULES
Social club play: Wednesday evening, Saturday & Sunday afternoons.
All full club members are welcome to participate in social club play. On Wednesdays, from 6:30pm and from 3pm on Saturday and Sunday.
Doubles play has priority over singles play on club days/nights. Singles shall not be played when all courts are in use and other members are waiting.
When you arrive, put your racket down next to the main court gate indicating you are the next person available to play.
If only two people are playing on a court, feel free to join them to make up a four.
On completion of a set, players should vacate the court and await their turn for the next free court.
If your set reaches 6-6 and other members are waiting to play, then you should not play a tie breaker. If no one is waiting, playing a tie breaker is fine.
When a member arrives to play, they have a priority to go on to the next available court ahead of those who have already played a set.
After a set has been completed, players must leave the court and wait their turn for the next available court by placing their racquets along the fence near the main court entrance.
It is also advisable to sweep the courts before playing to reduce the risk of injury.
Booking a court: SHTC does operate an online booking system. In order to book a court please go to:
www.southhampsteadtennisclub.com/bookings
Courts can be booked in one hour slots. Courts cannot be booked for more than two hours consecutively.
Some courts are allocated for coaching. On Sunday, between 12pm-3pm, families are given a priority on the courts. These are clearly marked on the booking sheets.
Lighting of courts: All five courts have full lighting. During social club play – Wed evening, Saturday and Sunday - the club provides free lighting. At all other times, lighting costs £4 per hour. Coin meters are located near the front entrance to the club and are numbered 1 – 5. The meters take £1 coins (good for 15 minutes of lighting).
Guest fees: Members are allowed to bring guests to play up to three times. The visiting guest fee is £5. The fee must be paid to a committee member or coach if they are available. If not, you can put the money into the post box located on the outside gate. A guest can play a maximum of three times at weekends, evenings or bank holidays without becoming a member.
Club teams: We have one ladies and three men's teams competing in the Middlesex League. We also take part in the Middlesex Cup Tournament. If you are interested (and good enough) to play on our teams, please contact our team captain: Fabio Piccoli on 07411 921789:
Coaching: Our coaches are Eladi Mainar on 07760 662119 and Albert Costas on 07807 816889. Please contact Eladi for all junior group coaching enquiries or any of the team for individual / adult session enquiries.
Social: Our fully licensed bar is open for Wednesday club evenings and at weekends whenever key-holders are available. We organise social gatherings after tournaments, for Wimbledon and at Christmas. If weather is good, will also enjoy barbeques through the summer.
Tournaments: We hold a range of competitive and enjoyable tournaments throughout the year. In addition, we run a continuous ladder competition. We also hold round robin events.
Litter: Please take all your litter off the courts when you are finished playing. If the clubhouse is not open, there are two large litter bins for old tennis balls (white bin) and general waste (black bin) outside the clubhouse. There are also three large waste bins near the street entrance for glass, general recycling and landfill waste. PLEASE USE THEM TO KEEP OUR COURTS CLEAN AND NEAT. We appreciate you clearing up after yourselves for the benefit of the club and its members.
Smoking: Smoking is not allowed in the clubhouse or at the front entrance facing the courts. Smokers are asked to go to the side of the clubhouse or around back by the BBQ
Social Media: Our website is: www.southhampsteadtennisclub.com
You can also find up-to-date information on what's going on at the club on Facebook and Instagram.
https://m.facebook.com/SHTCTennisClub/?ref=bookmarks
https://www.instagram.com/southhampsteadtennisclub/