Coaching
Tuesday Adult Coaching
Wed, 23 Sep 2020 00:00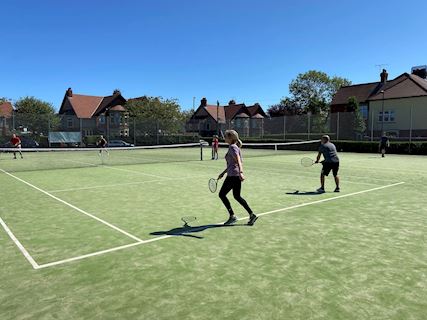 Beverley Park Lawn Tennis Club is running a Tuesday adult coaching programme throughout the Summer period at the club.
The programme is for players 16 years old and above and is suitable for people of all abilities. The club also provides all tennis equipment at the sessions.
Walking Tennis
Time: 1:00-2:00pm
Ability: All
The cost of this session is £3.00 for members and £4.00 for non-members.
Walking Tennis is an adapted version of tennis. Therefore, all normal tennis rules apply but for a few specific rules are included:
No running or jumping
Two bounces are allowed!
Pressured balls are used to prevent injury
Tennis Xpress
Time: 6:00-7:00pm
Ability: Improvers & Intermediate
Tennis Xpress is an adult introductory coaching course for players who want to learn the basics of the sport or develop their tennis skills.
Cardio Tennis
Time: 7:00-8:00pm
Ability: All
Cardio Tennis is a fun, sociable group fitness class set on a tennis court and open to people of all ages and abilities.
Match Practice & Tactics
Time: 8:00-9:00pm
Ability: Intermediate & Advanced
This session is for advanced team players looking to develop their skills and learn new tactics to put into match practice.
Cost:
Unless mentioned above, the cost of each session for members and non-members is the following:
Pay as you play: Member - £5.00
Pay as you play: Non-member - £7.00
To book onto any of the sessions in advance you can do this by clicking here.
For more information email [email protected]