Coaching
Saturday Junior Coaching
Sun, 20 Sep 2020 00:00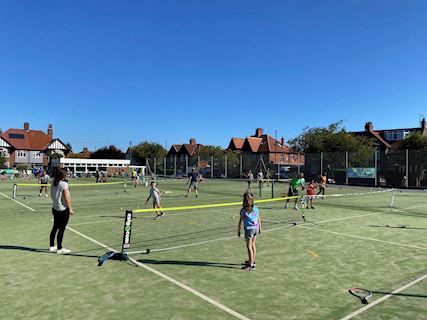 Beverley Park Lawn Tennis Club delivers a very successful junior coaching programme every Saturday throughout the year at the club.
The session will include activities which will cover the basic agility, balance and co-ordination with the main priority to have fun! The club also provides all Tennis equipment at the sessions.
Tots Tennis
Time: 9:00-9:45am
Age: 2-4
Cost: £3.50 members & £5.00 non-members
LTA Youth Red
Time: 9:00-10:00am
Age: 5-8
Parents are welcome to participate at the sessions as the club believes parents are key in helping maximise the child's development.
LTA Youth Orange
Time: 10:00-11:00am
Age: 8-9
LTA Youth Green
Time: 10:00-11:00am
Age: 9-10
Teenager Tennis
Time: 11:00am-12:00pm
Age: 11+
This session is for players to improve their skills and start to learn tactics to put into matches.
Cost:
The cost of the hour sessions for members and non-members are the following:
Pay as you play: Member - £5.00
Pay as you play: Non-member - £7.00
To book onto any of the sessions in advance you can do this by clicking here.
For more information email [email protected]