Competition
B Team overwhelmed by a strong Beccles A Team
Sun, 20 Dec 2020 00:00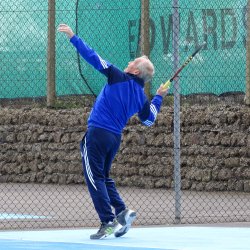 Top v bottom fixture played today in Div 2 with high flying Beccles comfortably winning 7-1.
LTTC 'B' fought all the way, and Carol and Peter playing first pair got them off to a good start winning the first set 6-3 against the extremely strong pairing of Matt and Matti before losing the second set 3-6. Belinda and Andy lost 3-6, 4-6 to Kate and Ashley. The LTTC men were swept aside 2-6, 1-6, with the ladies losing 4-6,4-6.
The turbo powered serving of Matt Beamish was the hardest that Peter and Andy could ever remember facing.