Coaching
Market Harborough Tennis Club - Our disabled coaching story
Mon, 18 Mar 2019 00:00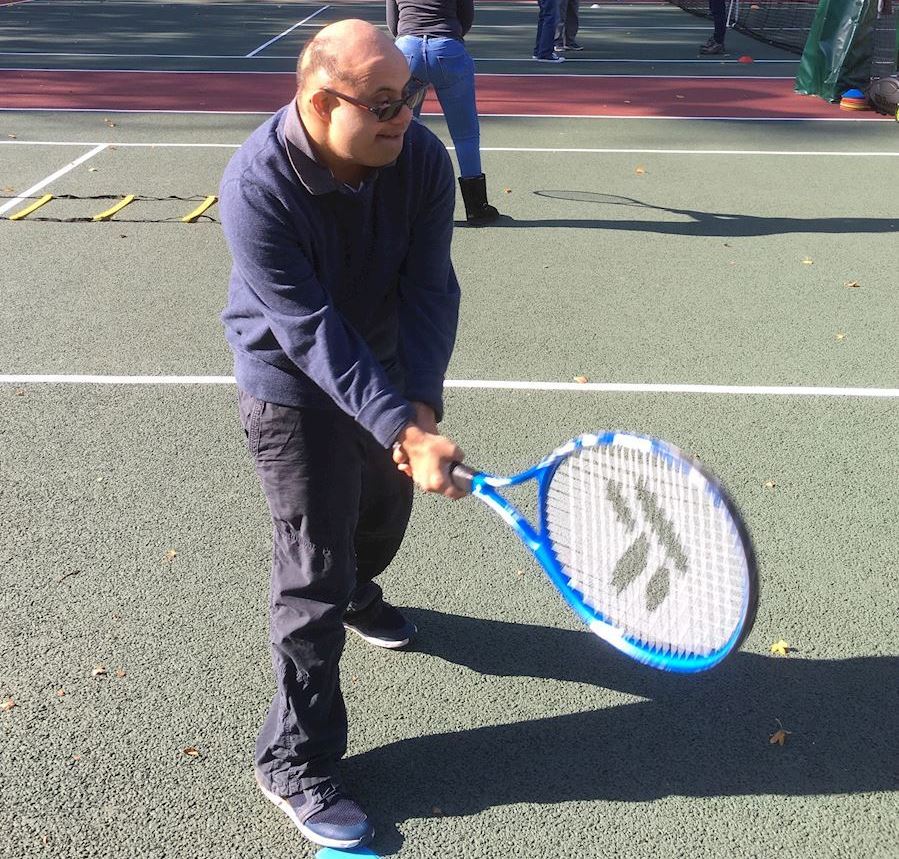 Last year we were approached by Bright Ideas for Tennis, a charity which supports amongst other things, coaching for those with learning disabilities. We were provided with a grant for £300, some training , a bag of equipment and a contact at a local special school.
As a club we wanted to support the charity and this initiative, so with our LTA licensed coach and a group of volunteers we delivered a series of 10 sessions to 12 pupils from this local school from spring last year. It was a steep learning curve for all concerned but the rewards were amazing and good social relationships were formed between all concerned. Our overheads were low since the tennis club provided its facilities free of charge, the volunteers donated their time and our only expense was coaching at £30 per hour.
We were determined to grow this coaching. We approached the local district council sports team and were awarded grants to extend the coaching to a second session for adults with learning difficulties in the town. Again this development was positive and everyone wanted the initiative to continue.
By making multiple multiple grant applications , we secured enough funding to continue with both coaching groups through the autumn and into the winter months. Our local Leisure Centre was persuaded to donate courts initially free, and subsequently at a much reduced rate, to ensure the sessions could continue during inclement weather.
A group of club members are currently preparing for a sponsored tennis marathon which will also contribute towards our costs, but at present we are seeking funding from May onwards which is one year since we started the project.
The outcomes for the participants are both physical and social. They certainly benefit from the social interaction which comes from us having a regular band of volunteers who know their names and can hold conversations with them. Small gestures such as the giving of Christmas cards and the organising of prizes and certificates have raised the status of the coaching. Over the course of the last 9 months the coaching sessions have improved the participants` agility, balance and co-ordination through a variety of different activities. These have included the regular use of footwork ladders, progressions with throwing and catching as well as the development of the key strokes within tennis. The development of skills is noticeable across all participants. Particularly in the game at the end of the session where individuals are able to successfully hit the tennis ball into a specified area of the tennis court and they are able to catch a ball hit from the other side of the net. Participants have also improved their self-confidence and communication skills through their regular attendance at tennis sessions. The excitement with which they arrive at each session is testament to their level of engagement and enjoyment they experience.
The link below is to a short video taken a few weeks ago at one of the sessions.

TENNIS COACHING MARKET HARBOROUGH VIDEO
The quality of what we offer was recognised when we were awarded the Community Impact Award by Harborough District Council in November last year.
To fund this activity until April 2020 will require 40 weeks of coaching fees for both groups= £2400.
We would like to guarantee the sustainability of the project on behalf of Bright Ideas for Tennis since we have a dedicated coach, a pool of over 20 willing volunteers and two groups of participants asking for more coaching.
Lesley Paris (Chair Market Harborough Lawn Tennis Club)