Covid-19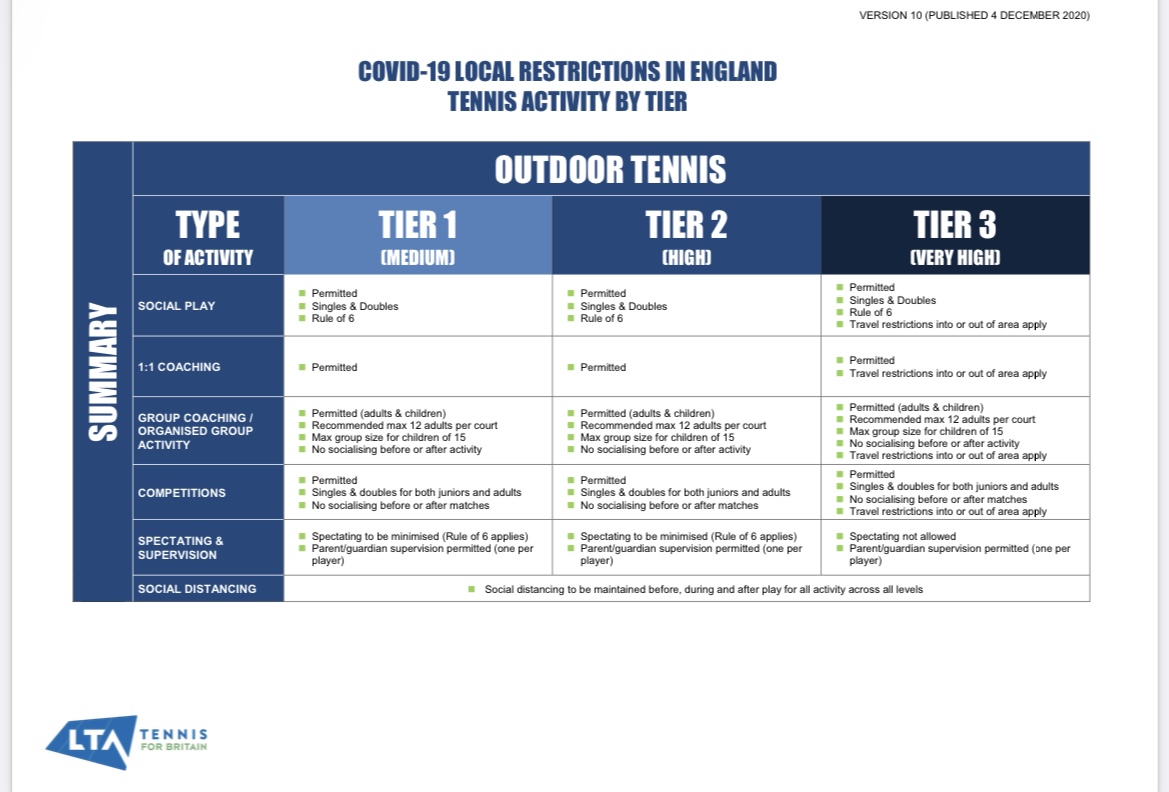 FLTC : RESTART with COVID-19 RESTRICTIONS
update, 2nd December 2020
As of Wednesday 2nd December and the new tier system being active we are pleased to say that we are able to use the courts in all 3 tiers as we are an outside club. This means no matter the tier we find ourselves in singles and doubles are both permitted with no restrictions on households. The main aspects we must be aware of are gatherings off court should not be happening. (Please see Picture at top of page for full restrictions on OUTDOOR TENNIS)
It remains the case that to enable us to play we have to use our facilities in an organized and responsible manner. There are some strict government instructions which must be followed and the LTA have produced guidance for venues to use to ensure that these are adhered to, having agreed interpretations with DCMS. The guidelines cover good practice to follow from arrival in the car park shortly before your game through to departure straight away once you have finished (these will be adapted further, in accordance with government updates).
Players and parents will be required to comply with the rules on social distancing throughout.
Please do not come to the Club if you, or anyone in your household, is showing Covid-19 symptoms. Anyone developing symptoms after playing must follow the 'test and trace' guidelines which will include notifying the authorities of anyone you came into contact with at the Club.
Here at FLTC we have followed the guidelines set out by the LTA to develop our own local procedures to ensure we comply with all requirements/restrictions.
After some initial teething problems for a few players, the online Court Booking System has been working well and continues for now. It is explained further below. All players MUST have a court booked BEFORE they arrive at the Club.
The major change now is that doubles play is allowed, whether or not all participants are from the same household. There are, however, some specific recommendations, detailed below, to maintain social distancing principles as much as possible.
PROCEDURES
Club Access
(1) Please only enter the grounds when and if you are going to play, do not drive into the car park more than 10 minutes in advance of your planned court time and depart as soon as possible after you have finished.
(2) The only non-players allowed in the Club grounds will be parents / guardians while their children are on court, plus those needing to work on site.
Use of Hand Sanitizer
(1) The Club has provided hand sanitizer in the winter pavilion, to be used if you do not have your own supply.
(2) All players should follow good practice and wash their hands thoroughly before heading to the Club and again when returning home. Assuming each player does not serve only with their own provided tennis balls (which it is recognized is unlikely in doubles) then this procedure is very important.
(3) It is important to avoid touching your face after playing until you have properly cleaned your hands with sanitizer or soap and water. This should be done as soon as possible if you touch any shared surface, such as gates or net straps, if they have come loose.
Indoor Facilities
(1) The Clubhouse remains closed for now.
(2) The Winter Pavilion is open only for people to use the hand sanitizer, only one person may be in the building at a time. If it rains do not shelter in here. Parents cannot wait in here, you should be outside or wait in your car please.
(3) The outside toilet, at the end of the grounds building, is now open and will be cleaned regularly. Please wash your hands thoroughly if using the facility.
Use of Courts
(1) Club evenings can happen but again gatherings off court can not exceed rule of 6
(2) Courts can be used for singles or doubles with a total of up to 6 people allowed in the area of the court. There is no longer a restriction on who these people may be in terms of being in the same household or not.
(3) Any parents/guardians who need to be present will not count towards the tally of 6 people if they remain outside the court area.
(4) Arrive changed and ready to play, bring all of your own equipment with you, including full water bottles, but not more than you need to bring. If you have your own hand sanitizer it would be better to use your own.
(5) Do not share any equipment with others. Bring your own tennis balls and try to minimize the number of times you handle them, preferably only when serving. If possible mark your own tennis balls to differentiate them – do not pick up balls that you are not playing with.
(6) If you plan to play with people outside of your household using one set of balls then it is even more important to follow the cleaning your hands procedures before and after play.
(7) It is recommended that when playing doubles partners should agree who will move for any balls that are hit down the middle of the court, to avoid both players going for the same ball and colliding.
(8) It is preferable to avoid adjusting the height of the tennis nets, but if you need to do so please wear gloves or use hand sanitizer.
(9) Please remember to follow social distancing rules when retrieving balls that have left your court and when collecting balls when you have finished playing.
(11) Do not exceed your booked time - if consecutive court users are present those waiting to play should stand away from the gates to allow those who have finished to leave first.
(1) We will only use the end courts on each set of three:
​​courts 7 & 9 (artificial grass)
(2) The nearest gate to each court must be used, including the far gate for court 9.
(3) The gate locks / latches must not be touched by anyone so the gates will be able to swing open for anyone entering or leaving the courts. Even when windy please do not try to close the latches to keep the gates closed in place.
Felixstowe Lawn Tennis Club Committee