Adult Coaching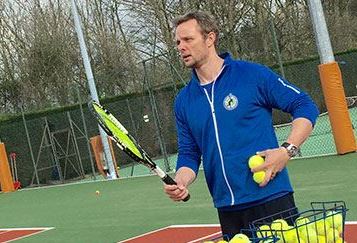 Adult group coaching includes:
Cardio Tennis (Monday evening) - Cardio Tennis is an engaging group endurance fitness and tennis-related footwork session with continuous basket drilling. Focusing more on cardiovascular fitness and less on technique and tactics. You will get a great workout and burn calories in this full body workout.
Xpress Improver (Wednesday Evening and Sunday Midday) & Xpress Beginner/Improver (Thursday afternoon) - Structured coaching to improve basic stroke technique, court positioning and develop a tactical understanding for Singles and Doubles play. By the end of the course players will be able to do a basic serve and rally and understand the scoring and rules of tennis, providing a foundation for more regular social tennis play.
Ladies Morning (Thursday Morning) - Ladies only - 90 minutes of coaching and social play.
Seasonal Team Coaching - For team players to practise and improve their stroke technique, tactics and court positioning.
One to one coaching is also available at reduced rates for members.
For more information contact club coach Mark Airey on 07787 510702 or [email protected].