Janko U9 Success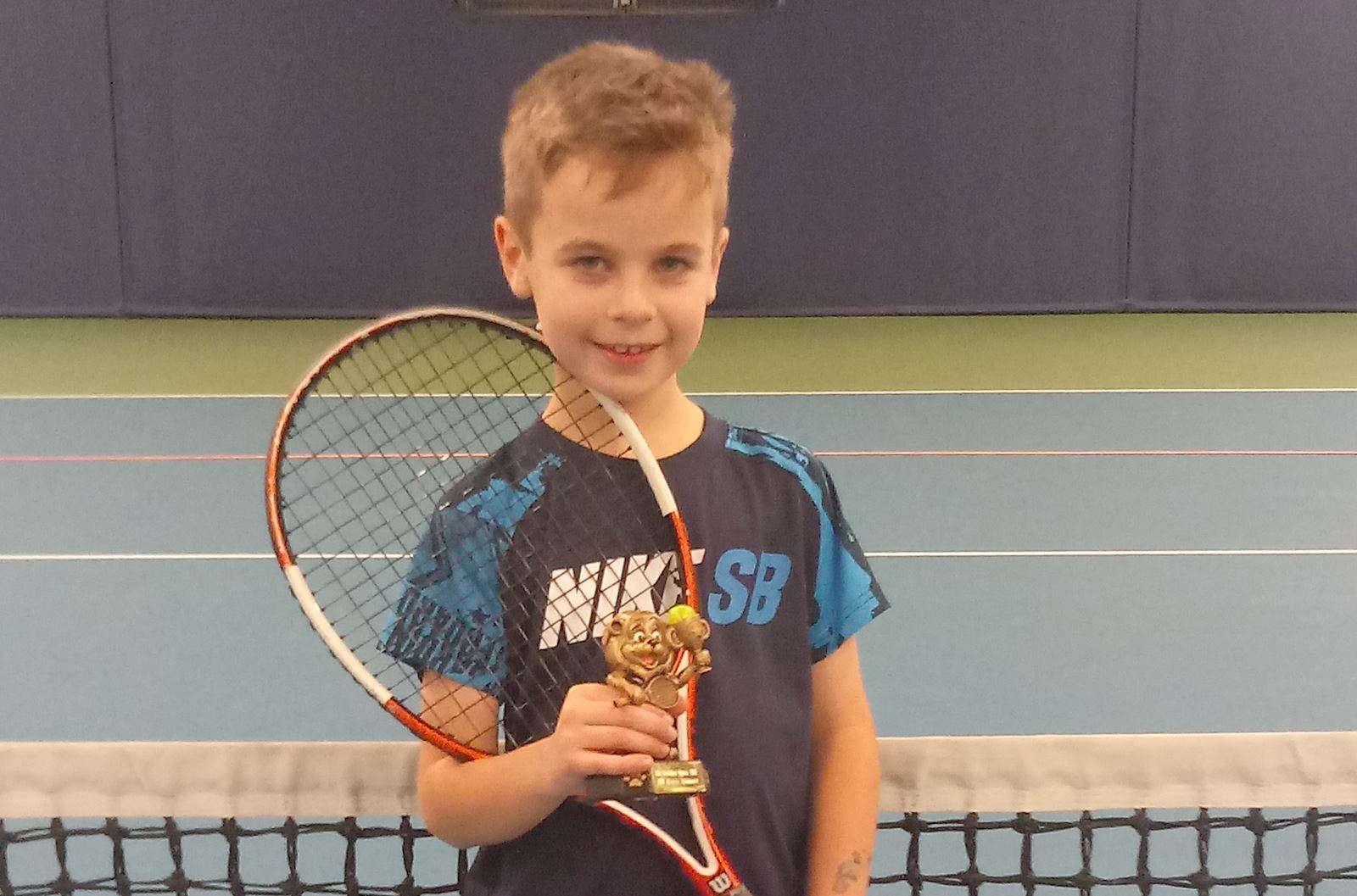 2018
U9 Singles Success
On 27 Octover Janko won the Grade 4 U9's singles competition at the David Lloyd Manchester North Club in Middleton, Manchester. He won all 6 of his matches against good players on his way to winning the competition. Attached is a picture of Janko with his trophy. Tomáš was also competing he was 3rd in the U14's singles and won the U14's Doubles with his partner.
WImbledon Debut
After triumphing at the regional finals young Tomas Grime took to the famous grass courts in August. His adventure ended in the first round when he was beaten by Aaron Hilsum. The experience has only fuelled his desire to return and play again at the iconic venue. "It's really quite fantastic to know that you've been walking in the same place as Roger Federer and Rafael Nadal" said young Tomas.
Regional Success for Tennis Ace Joseph!
After a successful 2017 in which he won four regional titles Joseph McLaughlin of Arnside School has had a busy start to 2018. Since the turn of the year he has been selected to play for a North of England regional team in representative matches against Scotland and the Midlands. After playing his part in a comprehensive 19-5 win against Scotland, Joseph, the current 9U County champion, played a leading role in steering his team to a hard fought win against the Midlands. Playing in the deciding doubles match he held his nerve serving out the last two points to claim a 12-11 team victory. Joseph, who is coached four times a week by leading local coach Jon Griffin at Heversham Tennis Club, will now look to continue his development at 10U level during the remainder of 2018.
Coach Griffin stated `Joseph thoroughly deserves his success, his dedication to the sport of tennis over the last three years has been truly outstanding and I very much look forward to seeing him compete at the British U10 Nationals later this year'.
James follows in famous footsteps
James Griffin has played in his highest level event to date the U14 Teen Tennis International Tournament held at Bolton Arena with players travelling from all over the world to compete (USA/Canada/Japan/Brazil etc). Previous players at the event include Sir Andy Murray, Marcos Baghdatis, Tomas Berdych and Eugenie Bouchard, Caroline Wozniacki, Justine Henin and Kim Clijsters in the girl`s event.
James lost to a Croatian Boy 6/1 6/3 who made it to the last 16 but certainly didn`t look out of place playing at this level. The match was filmed (link below) so you can judge for yourself!
2017
December
Congratulations to James and Harrison who have just won `The Shrewsbury Club - Christmas Open 2017' Regional U16 Doubles title winning theie matches 1- 4 4-2 10-7, 4-2 2-4 10 -7 and the final 4-2 4-1.
James has been injured for the last four months so the event was a double (no pun intended) success gaining a title and playing two days tennis without pain!
November
Congratulations to 7 year old club member Daniel Drinkall whom has just won his first tournament at Ilkley LTC
Let`s hope that`s the first of many!
SEPTEMBER
Joseph McLaughlin
Another busy tennis year for Joseph McLaughlin,Age 9 from Holme culminated in him becoming 9U Cumbria County champion to follow on from his 8U County crown in 2015.
A packed year started in February with Joseph reaching a significant milestone by winning his first Regional Grade 3 tournament in Sunderland. April found him captaining his club team Heversham Hammers to a second Aegon Cumbrian Team tennis title. Further Grade 3 successes in Ayshire and Edinburgh in May kicked off the second part of the season and Joseph also found time in his summer holidays to travel to Belfast to win the Ulster Junior Open beating the Ulster Number 1 ranked 9 year old in the final. Joseph whom is still classed as an under 9 until April 2018 has now started competing in the U10 Age group and has carried on his success wiinning his first two tournaments. Joseph has been coached by Heversham Club Coach Jon Griffin since the age of 6 has now been recognised by the LTA Nationally and the future certainly looks bright for this up and coming star.
Tomáš Grime - Lancs County Championships 12U
Tomáš Grime ended his summer season with a prestigious win in the 12U Doubles at this year's Lancashire County Championships with his double's partner Will Jepson from Clitheroe.
The Lancashire Championships always prove to be very challenging with high quality players from Bolton, Manchester, Liverpool and Wigan tennis centres. The final proved to be very intensive, lasting around 2 hours with the majority of the games going to multiple deuces which tested their skill, talent, fitness and endurance. Tomáš and Will fought to the last minute to secure the Lancashire County 12U Doubles title 7-5, 6-3.
Winter Season – South Lakes Singles Leagues
See here for details
AUGUST
HEAD Liverpool Regional 8U Tournament
A second week and a second regional competition equals a second great win for Janko.
Janko Grime played at the HEAD Liverpool Regional 8U Tournament where he beat all his opponents to win the title.
In total there were 8 players most coming from the tennis centres in the region and the competition was played in a round robin format where Janko was the only player to win all his matches and he comfortably won the tournament in the final match 10-3.
Janko triumphs at Regional Bolton Grand Prix
Young junior tennis player Janko Grime came out on top by winning the Grade 3 Regional 8U mixed Bolton Grand Prix tennis tournament at the Bolton Arena in Horwich. Janko, aged seven, is coached by Cumbria County coach Jon Griffin at Heversham & Milnthorpe Tennis Club where he also attends squad training. During the tournament Janko had to beat experienced and older players from around the region who train at tennis centres in Wigan, Cheadle, Bolton, Liverpool and Manchester. Janko played 6 matches comfortably winning the final with a score of 10-4. This is Janko's first regional tennis tournament this year which has set him off to a great start for the rest of the summer's tennis competitions.
JULY
Road to Wimbledon County Finals
See report here.
JAMES GRIFFIN
See the Club News page for more info on our talented Junior Player.
JUNE
U18 Boys Aegon Team -County Champions
Our U18 Boys Aegon Team are County Champions. We have now bagged the U9/U12/U16/U18 & Open titles.
Team Harrison Savage, Joseph Wilkinson, James Griffin & Kristian Harrison
U16 Boys Aegon Team -County Champions
Our U16 Boys Aegon Team Became County Champions yestersday meaning we have now bagged the U9/U12/U16 & Open titles and should get the U18 title next week.
U16 Team James Griffin, Kristian Harrison, Finlay Meek, Oliver Meek & Tom Casey
Joseph McLaughlin
Congratulations to Joseph McLaughlin who picked up another Grade 3 Regional title winning the East of Scotland Junior Open Championships in Edinburgh making it four Regional titles in 4 months!
Road to Wimbledon
Congratulations to Tom Casey whom after winning the clubs Road to Wimbledon final will now progress to the Cumbria County Final and hopefully then onto Wimbledon, good luck Tom!
U10 County news
Congratulations to Josh, Jacob & Fin who were selected into Cumbria U10 County Squad for the first time with Jacob & Fin going on to represent Cumbria U10 Boys Team at the annual inter county cup competition. Well done boys!
Aegon U9 Team + Aegon U12 Team - Cumbria County Champions
Aegon U9 Team captained by Paul McLaughlin and our Aegon U12 Team captained by Bruce Grime both became Cumbria County Champions.
MAY - Tennis Ace Joseph scoops Second Regional Title
Joseph McLaughlin from Holme has just won his second 9 and under Regional Title winning the Ayrshire Open this weekend following on from his Wearside Open victory in February.
Joseph who only turned 9 in April has been playing seriously now for 3 years training at Heversham Tennis Club under the watchful eye of local coach Jon Griffin. He is also involved in the Lawn Tennis assocations Regional Training Programme.
Coach Griffin quoted `Jospeh deserves all the success and plaudits coming his way as his dedication and commitment to the sport is truly outstanding'.
MAY - Heversham Tennis Clubs under 8s
Our under 8s were invited for the third year running to enter the North West Mini Tennis Performance Challenge event held at Liverpool Tennis Centre. Heversham are the only club from Cumbria invited to enter the prestigious competition with nearly all of the performance clubs being huge indoor tennis centres.
As always the Clubs juniors punched above their weight had a thoroughly enjoyable day and all players won some matches.
The team lost to the Manchester Northern Club, drew with Bolton Arena and beat Liverpool Tennis Centre.
Pictured L - R Oliver Dalton, Janko Grime, Lottie Kenyon, Max Cross
The team are all coached by Heversham and Cumbria County Boys Coach Jon Griffin
MAY - Cumbria U14 Boys Team come 3rd
Cumbria U14 Boys Tennis Team having been competing at the LTA`s annual inter county cup competition held in Boston Lincolnshire over the bank holiday weekend playing against teams from Sussex, Lincolnshire and Buckinghamshire.
On the first two days Cumbria lost against Sussex 5 - 1 then beat Lincolnshire 5 - 1meaning going into the final day they were to play Buckinghamshire in the 3rd/4th play off whom they beat 5 - 1. The final was contested between Yorkshire and Sussex with Sussex winning 5 - 1 to reach the National Finals later this month.
The five man Cumbrian team which was captained by local coach Jon Griffin comprised of James Hale (Carlisle), James Griffin (Kendal), Billy Blaydes (Windermere), Louis Pickering (Workington) & Freddy Blaydes (Windermere).
Coach Griffin quoted ` the boys were an absolute pleasure to take away, they competed well and were a credit to both Cumbria Tennis and their families'.
2016
Cumbria LTA Awards - 2016
Heversham juniors received a number of prestigious awards at the Cumbria LTA awards evening held at the North Lakes Hotel, Penrith on 11th November 2016
The juniors also received awards in recognition of their successes at the Cumbria County Closed Tournament and in the AEGON Summer County Leagues.
Junior Boy of the Year – Louis Glaves (See Picture)
The Chris Fidler Memorial Trophy – U18 County Boys Cup team (Louis Glaves, Albert Glaves, Harrison Savage, Finlay Meek, James Griffin, Joseph Wilkinson)
Aegon Team Tennis –
U9 Mixed - See photo here
U14 Boys - See photo here
U18 Boys - See photo here
Cumbria County Closed event successes
U14 Girls Singles Runner Up – Harriet Glaves
U18 Boys Singles Runner up – Louis Glaves
U18 Boys Doubles Winners – Louis Glaves + partner
U18 Mixed Doubles Winners – Harriet Glaves + Louis Glaves
Open Doubles – Louis Glaves + partner
Cumbria LTA Merit Award – Albert Glaves
Road to Wimbledon
Runner up – Finlay Meek
County Finalist - Harriet Glaves