Club
24Hr Tennisathon for Velindre
Fri, 24 Jun 2022 00:00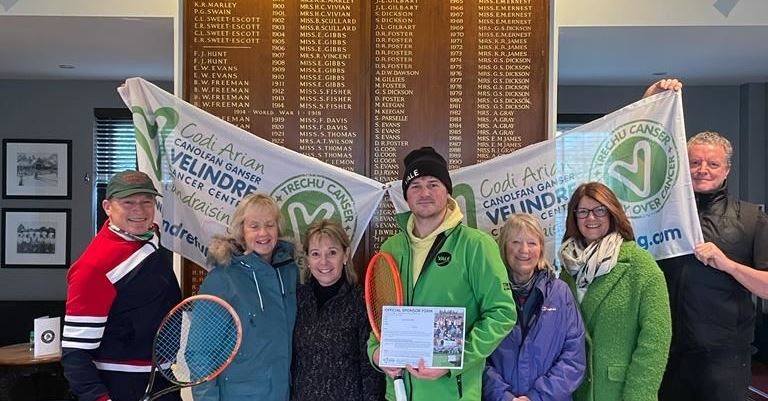 The Tennisathon is BACK!!!
After a 17(?) year absence, the PLTC 24 Hour Tennisathon makes its return with around the clock tennis being played from 7pm Friday 8th July and culminating at 7pm the next day with a 'silent' after party.
Back in the day this was a much loved event and on its retrn is one of the key events of the fundraising activities for Velindre Hospital. The event is all about tennis and the membership having as much fun as possible, raising much needed funds for this fantastic Cancer research and care centre.
The center piece event is an amazing challenge for Head Coach Rob Cunningham who will attempt to play for the full 24 hours. You and 2 friends can book a one hour slot to challenge him to doubles match or simply sponsor Rob in this amazing challenge:
Surrounding this will be other events, where you can help raise funds for Velindre including a special edition of the club's ever popular Prosecco cup to kick off the event and to finish the whole thing off we will celebrate with a SILENT DISCO on the Saturday evening. In addition, we want the membership to fill the courts and come up with their own ways to generate funds. It's going to be fun so get involved..
Key Events
24hr Tennis Challenge: 7pm Fri 8th July to 7pm Sat 9th July
Rob attempts to play 24 consecutive hours of Doubles. Rob will first be taking part in the Prosecco Cup (more information below), followed by 22 one hour slots where you can play with/against Rob in a minimum 45 minute doubles match (Rob will take the occasional break to eat, shower, change clothes, etc).
Note, only court 6 will be floodlit and in use from 10pm until dawn.
We have 22 groups lined up to challenge Rob all donating a minimum of £10/head. If you are not lined up to play sponsor Rob in his epic challenge!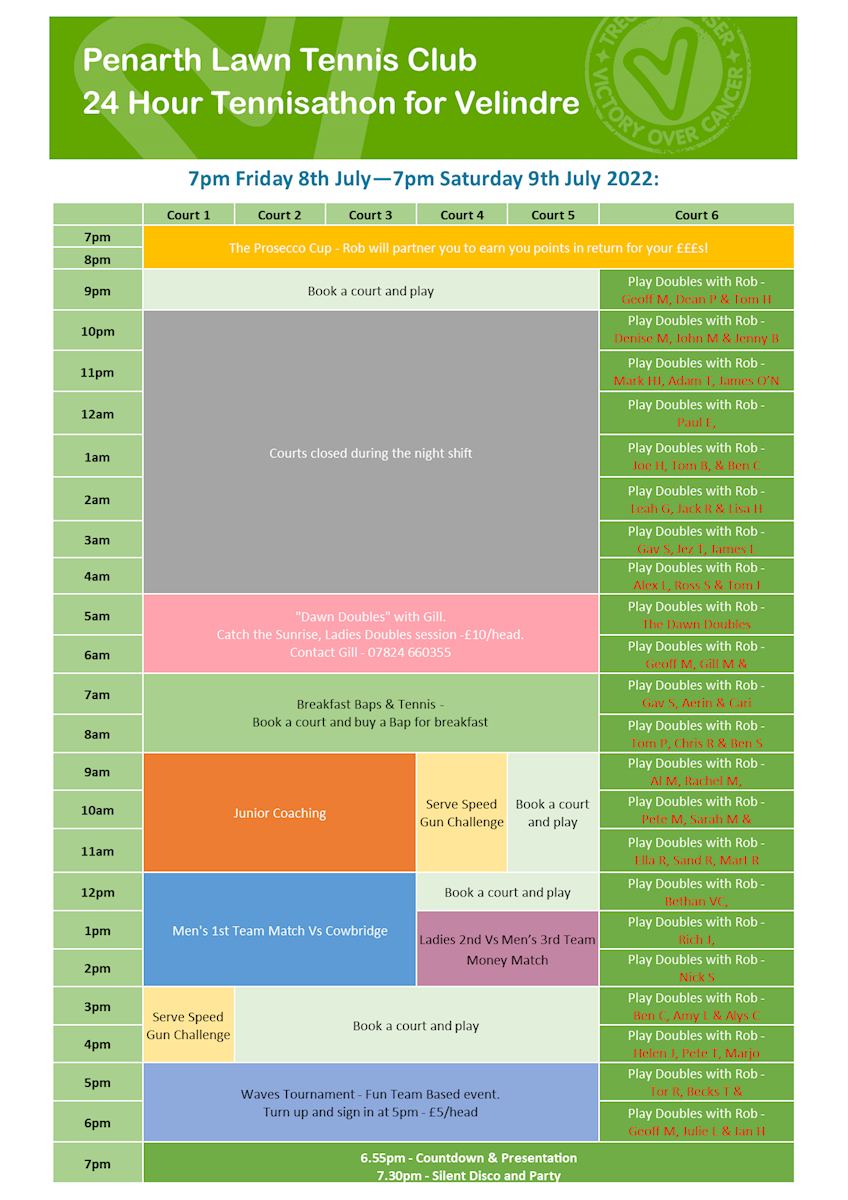 The Prosecco Cup - Special Edition: Fri 8th, 7pm to 9pm
For the Prosecco Cup Special Edition the usual rules apply! Money in the pot, Mark makes the rules and this time his job is to extract as much cash from you as possible! Included will be a chance to boost your cup ambitions by hiring Rob the Coach to play with you, but expect this to be expensive!!. More details to follow via the usual WhatsApp channels.
The Dawn Stalkers Tennis Session: 5am, Sat 9th
Join Gill Munro and in an early morning game of tennis to watch the sun rise. The goal is to get all 6 courts filled. Contact Gill on 07824 660355 to get involved.
Breakfast Baps With Gill & Sandra: From 7am, Sat 9th
Book a court, and buy a bap. All proceeds to charity.
Serve Speed Gun Challenge: Sat 9th, 9am-11am & 3pm-5pm
Test the speed of your Serve with our giant Speed Measuring Inflatable! Hit 5 of your best into our inflation serving dome and see how fast you can serve. Prizes for the fastest serve in each catagory!
Men's 1st Team Match:Sat 9th Midday
Come along and watch the men's 1st team battle it out against Cowbridge Tennis Club
Charity Money Match - Ladies 2nd Vs Men's 3rd Team: Sat 9th, 1pm-3pm
The ladies have called out the men to play in a charity match. All players contribute to the pot but the losers pay double!!! Come along and show your support!
Waves Tournament: 5:30pm,Sat 9th July
All adults and teens are welcome to take part in the fun team event run by the VTA Coaching team. £5 entry paid on the night.
The Final Countdown & Presentation: 6:55 pm to 7:30pm, Sat 9th
Join us for the event countdown and celebration on the courts adjacent to Court 6. We will also be presenting a cheque to Velindre for the monies raised so far! Our very own weatherman Derek Brockway tells us the weather is set to be dry, warm and a slight breeze!
Silent Disco & Celebration: 7:30pm - 11pm, Sat 9th
Silent Disco coordinated by Sarah Martin which promises much fun, out of tune singing and out of rhythm dancing as you get a choice of 4 different soundtracks at any time. The great part is that you can use the headphones in the clubhouse or the grounds, so expect some interesting sights as groups dance and sing away. Cost is £5 per headset/ticket purchased here:
In addition to all this, there will be a BBQ and Cocktail bar on Friday evening and street food from Keralan Karavan during the day on Saturday.
So be sure to get involved no matter how big or small let's make this a huge success!