Club
Winter Tennis & Social Programme
Wed, 27 Oct 2021 00:00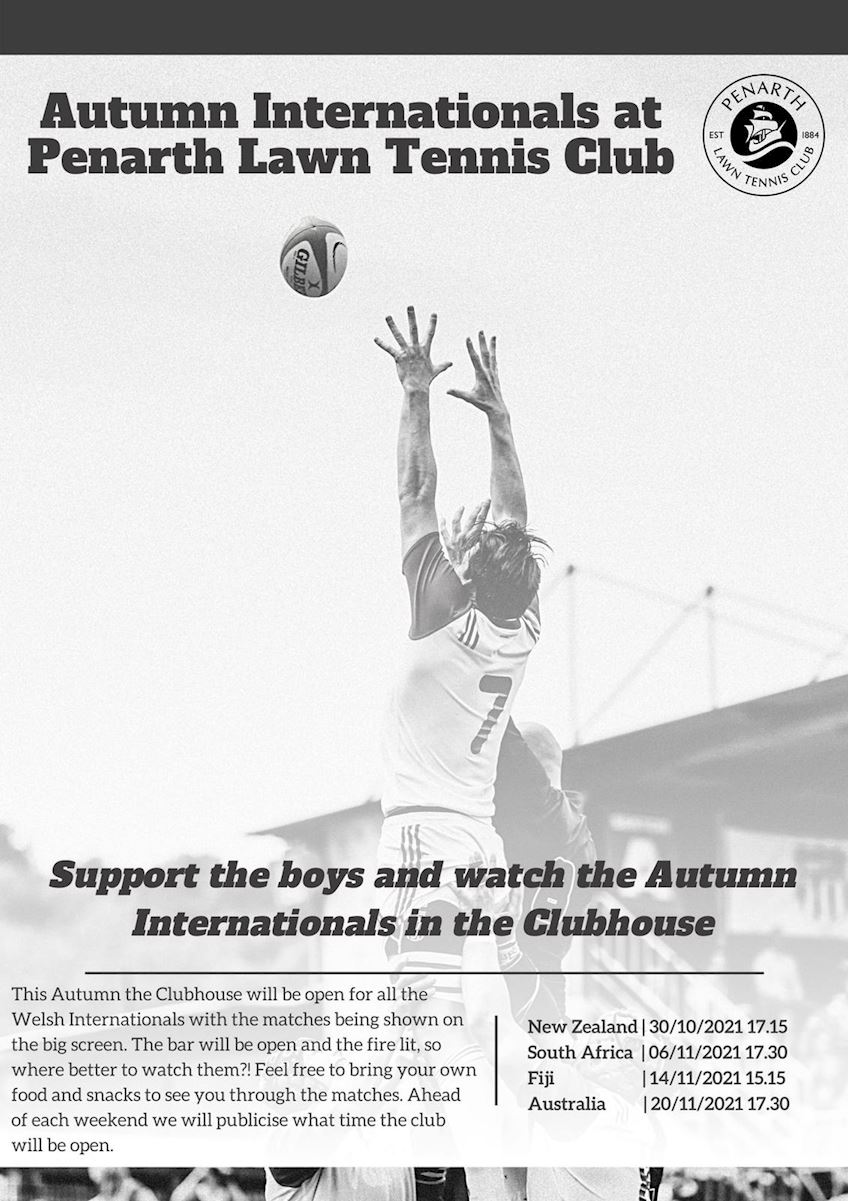 The club will be hosting the Wales Autumn Internationals on the Big Screen in the Clubhouse (as well as some of the warm-up matches played by those 'lesser' nations) - See info at the bottom.

Final calls for the winter box league entries. Please enter via the link below by Friday 30th Oct...
Enter the Winter Box Leagues Here

We are all putting a call out to see if "PLTC has Talent" for our Open Mic Night on Fri 10th Dec. If you can sing, dance (in a small space), play an instrument, tell a joke, or put your hand up a stuffed animal and make it talk then we want to hear from you. If you are interested in taking part contact Rob.

Handicap Presentations, Social Tournament & Curry Night

We will be Presenting the all the finalists of the Handicap Tournament with their spoils on Friday 12th November. Presentations will take place in the clubhouse at approximately 7.30pm.
As a "warm-up" for both before and after the main event. We will be running a Fun Social Tournament beforehand at 6pm and putting on a curry to be served throughout the evening. For the kids (and big kids) we will be serving Fish Fingers or Chicken Nuggets with chips and peas! Social tournament is free, and a family of 4 can eat out at PLTC for a tenner!
To give us an indication on numbers for the social tournament and food please fill in the form via the link below. Thanks.

Fun Tournament & Curry Night Sign-up

Quiz Night - Friday 26th November
PLTC's Winter Quiz Series starts on Friday 26th November. Arrive by 7pm for welcome and rules ready for a 7:30pm start. The first quiz will be a music based, hosted by Gavin Seymour. Teams of 4 to 6 people. Entry £7 per person including food. Enter via the link below to book your table. Spaces are limited so don't wait. There will be 3 further quizzes in the series, on 7th January, 4th February and 4th March so put the dates in your diary. A tally will be kept following each quiz to crown PLTC's top quizzers at the end of the final instalment!

Enter the PLTC Music Quiz