Club
The Prosecco Cup!
Wed, 27 Apr 2022 00:00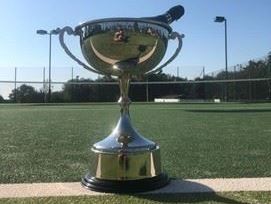 THE PROSECCO CUP 2022
It could be you! The Prosecco Cup, your favourite, anyone can win it, the biggest cup we've ever had starts Easter Monday. And this year it's a mega bowl of a Prosecco Cup with tournaments on every Bank Holiday, a special Jubilee Event and A TennisAthon Floodlit special with the Grand Final in August.
Our previous winners, Jenny Booth, Mark Howell-Jones and Paul Edwards will be defending their titles but this is The Prosecco Cup and they've got NO CHANCE!
And all you have to do is….
Turn up on the day at 10 a.m
Love playing tennis
Not take it too seriously
Have a doughnut and coffee
Start Playing at 1030a.m
And tot up your game score two hours later! Easy
And take home a bottle of Prosecco if you're the days highest scorer
£2 entry fee, everyone who comes get to play.
The more dates you play the better your chancing of winning Grand Prize Cup
Bonus prizes for Best Tennis Outfit
Points deducted for foot faults, bad line calls and back chatting The Umpire. We know who you areJ
More info and some new exciting rules to follow on WhatsApp. Just save these dates…
Round 1 - Easter Monday 18th April
Round 2 - Bank Holiday Monday May 2nd
Round 3 - Jubilee Bank Holiday Thursday 2nd June 'Come as The Queen' Theme
Round 4 - Friday July 8 –Tennisathon. Floodlit!
Round 5 FINALS DAY Bank Holiday Monday August 29th + 'DAVIDE'S' LEGENDARY ITALIAN BBQ
The Prosecco Cup 2022 After Round 1
THE LEADER BOARD
| | | |
| --- | --- | --- |
| 1 | Alun Morgan | 31 |
| 2 | Rob Mahoney | 30 |
| 3 | Gill Munroe | 29 |
| 4= | Kath Muse | 27 |
| 4= | Dave Morgan | 27 |
| 6= | Todd Daley | 25.5 |
| 6= | Christine Glossop | 25.5 |
| 8= | Alex Lewis | 24 |
| 8= | Peter Trevitt | 24 |
| 10= | Gareth Davies | 23 |
| 10= | Peter Knowles | 23 |
| 10= | Hayley Rogers | 23 |
| 10= | Peter Knowles | 23 |
| 10= | Jayne Mortished | 23 |
| 15 | Peter Nunn | 20 |
| 16 | Pauline Williams | 19.5 |
| 17= | Denise Miles | 19 |
| 17= | Kim Wordley | 19 |
| 19= | Nick Skinner | 18 |
| 19= | Mike McCullough | 18 |
| 19= | Linda Roberts | 18 |
| 19= | Alex Fraser | 18 |
| 19= | Andy Steel | 18 |
| 19= | Georgina Ewer | 18 |
| 25= | Marian McCallister | 17 |
| 25= | Jenny Booth | 17 |
| 25= | J Russell | 17 |
| | | |
| --- | --- | --- |
| 28 | Helen Dunn | 15 |
| 29 | Anne Humphrey | 14.5 |
| 30= | Jane Bradshaw | 14 |
| 30= | Noreen Davies | 14 |