Take a look at where we've come from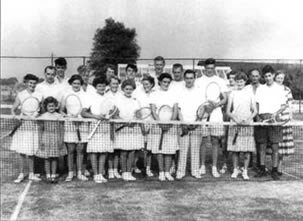 1932 Originally formed with annual membership of five shillings per year. Continued to 1950
1955 Parish Playing Fields Committee granted permission for two grass courts. Club established on 25thMay.
1958 Mens and Ladies Singles Challenge cups introduced
1965 Junior trophies introduced
1969 Third grass court installed
1978 League tennis comes to Wortham as part of the South Norfolk Tennis League
1984 2 courts converted from grass to tarmac.
1994 Club night had started on a Wednesday evening and membership had reached 50
1997 Courts resurfaced, third court added and club hut built
2000 New Playing Field Pavilion with enhanced facilities
2001 Suffolk LTA Tennis Club of the Year
2005 Floodlights installed
2007 Courts repainted
2009 Granted Tennis ClubMark status
Suffolk LTA Tennis Club of the Year
Mini-coaching, Cardio Tennis and Tennis Xpress introduced to the club
2010 Membership hits 300
2011 Highly Commended for Suffolk LTA Tennis Club of the Year
2012 Courts resurfaced
Josh Goddard, a junior member, selected as national LTA Young Volunteer of the Year
2013 Courts repainted. Club an ambassador for National Mini Tennis Week, one of only 100 clubs nationally
2014 Fourth court added and named after former Chairman and Club Captain Laurie Dickson
Officially opened by LTA President Cathie Sabin on 13 September 2104
2015 Suffolk Sport Club of the Year and Suffolk LTA Club of the Year
Club changes status to become a Company Limited by Guarantee
Club membership goes online
2018 Wortham Ladies 1st team wins Div 1 of Suffolk's Ipswich and Felixstowe League
2020 Courts repainted