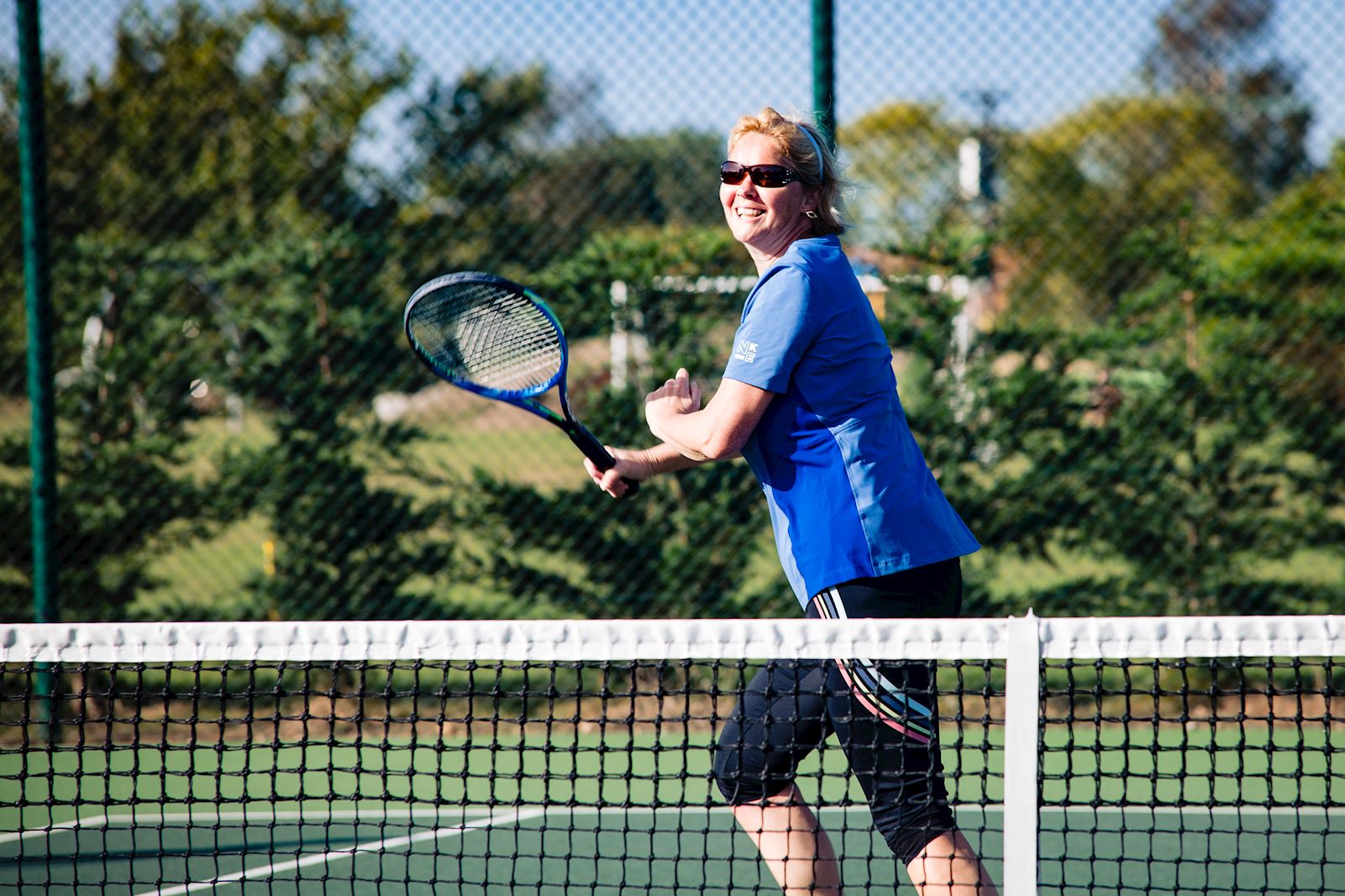 General Play
There are lots of opportunities for everyone to play at the club
It's simple to book a court using the club's online booking system. You can also download the ClubSpark Booker app onto your phone. Courts can be booked in half hour slots for up to two hours up to three weeks in advance.
Access to the courts is via a code for the gate padlock - this is sent to you via an e-mail confirmation when you have booked a court. Padlock codes change from time to time so please always check the information on your court booking confirmation.
Floodlights are free for member use and the lights are operated from the club hut using a key that is kept in the key box. Floodlights switch off automatically at 9.50 and must be off by 10pm.
Members are welcome to bring guests to the Club for the payment of a £3 guest fee. Members please note that any guest playing for more than three sessions in a season is requested to join the club.
Club Kit
We have an excellent range of branded Club Kit available for adults and juniors. Your chance to both promote the club and look good when you're on court! To view the range see here.
To view samples and check sizes, please contact Lorraine Stanley email: [email protected]
Coaching
For those of you who would like to work on your game then our coaches will be delighted to work with you whatever your age or standard. We offer coaching on a one-to-one basis and there are a variety of group sessions too. For details on coaching please click here
Social Tennis
Throughout the year all members are encouraged to join in our calendar of social events. These include tournaments in a variety of formats from handicap to themed to coincide with the Grand Slams, to the club's annual summer knockout tournament. Refreshments and, most notably, cakes are an important part of all these events. To view the social events calendar here.
Club Sessions
Our Wednesday and Sunday Club sessions and Saturday Rusty Rackets are available on a turn up and play basis.
Social sessions take place:
Wednesday 1800 - 2100
Sunday (Summer April - October) 0930 - 1200
(Winter October - April) 1330 - 1600
Saturday (Rusty Rackets) 1400 - 1600
Summer Tournament
The Club's annual tournament is run throughout the summer and is open to all members. It is a knockout competition with plate competitions for first round losers in the singles events. The tournament culminates on Finals Day, the second Sunday in September, and is one of the highlights of the club's year for all members.
For details on the club summer tournament click here
Pub League
Pub League matches are held once a month in the winter season on a Friday evening - tennis with a pint afterwards. The league is aimed at men who, while not regular league team players, enjoy competitive tennis.
Box Leagues
If you enjoy competitive singles tennis we offer both a mens and ladies box league. Matches are played over a six week period. To sign up or find out more then please click here
Competitive League Tennis
One of our key roles as a tennis club is to offer members the chance to play competitive league tennis. We enter teams at both junior and adult level into several local leagues.
Our junior teams are selected from those who take part in coaching sessions so please talk to our coaches if you would like to be involved.
Adults are asked, on an annual basis, to express interest in league team play. Our Club Team Captain works with team captains to select team squads. Adult teams currently play in the Ipswich and Felixstowe Floodlit League, Norwich Winter League and Ipswich and District League during the winter and the South Norfolk League and Norfolk and Suffolk League in summer.
There are currently 22 adult teams. If you are interested in playing for any of these teams, please contact Club Captain John Seeley [email protected]
Players in team squads are selected on their abilty, their commitment to the team and ability to reflect Wortham in a positive way. Team sqauds are also used as to give stronger juniors the opportunity to take part in adult team matches.